At first glance an asparagus knife might seem like an unnecessary tool. A marketing ploy, like a light meter, that isn't actually needed. And to be fair, I thought the same.
The truth, however, is that an asparagus knife can actually be very useful. They make the process of harvesting easier and are beneficial to the plant. In this guide I want to offer a few buying tips and review some of the more popular products on the market. Let's dig in.
The short version: best asparagus knives
Click here to jump to our selection of some of the best asparagus knives from around the web.
| Asparagus Knife | Image | Price | Rating |
| --- | --- | --- | --- |
| Burgon and Ball Knife | | $$ | 10/10 |
| DeWit "Daisy Grubber" | | $$ | 10/10 |
| Zenport Asparagus Knife | | $$ | 8/10 |
What is an asparagus knife?
An asparagus knife is simply a tool for cutting asparagus stalks! Generally speaking there are two types (both are included in the short reviews below). On the one hand you have weeder-style knives that are essentially metal shafts with a blade at the end. The other variety resembles a normal knife with a light curve. They tend to have a blade at the tip (like the weeder-style one) along with a serrated inner edge.
The idea behind the sharp tip is that the asparagus is cut below the ground, allowing you to get a bigger asparagus spear and protecting the crown of the plant. Tugging the spear off with your finger can damage the plant. Leaving a stub above the ground can also make it susceptible to damage from wind and weather. A clean cut is always better.
The key with an asparagus knife is to keep the blade sharp. Because you're applying a thrusting motion under the ground, if it's not sharp you'll just end up squashing the base.
Features to look for in an asparagus knife
Carbon steel – Carbon steel (steel which has carbon content) tends to be harder and longer-lasting than other types.
Powder coated or stainless steel/aluminium – Make sure that your knife is painted (preferably powder-coated) or made using a metal, like aluminium, that doesn't rust.
Wooden or ergonomic handle – If you need an ergonomic or padded handle, then make sure that the knife has this feature. Personally I prefer the feel and durability of wooden handles. Wood that's FSC-approved (Forest Stewardship Council) is a bonus.
Sharp blade – This can be difficult to ascertain if buying online. Most knives from reputable companies will have a sharp blade so I wouldn't worry too much. You can, after all, always sharpen at home.
Best asparagus knives: Some picks from around the web
***Full Disclosure – Where appropriate, I've linked product images to commercial sites and Amazon (see Amazon Disclosure). If you buy from these sites, I earn a small affiliate fee, which helps me keep Urban Turnip going.***
Burgon and Ball Harvesting and Asparagus Knife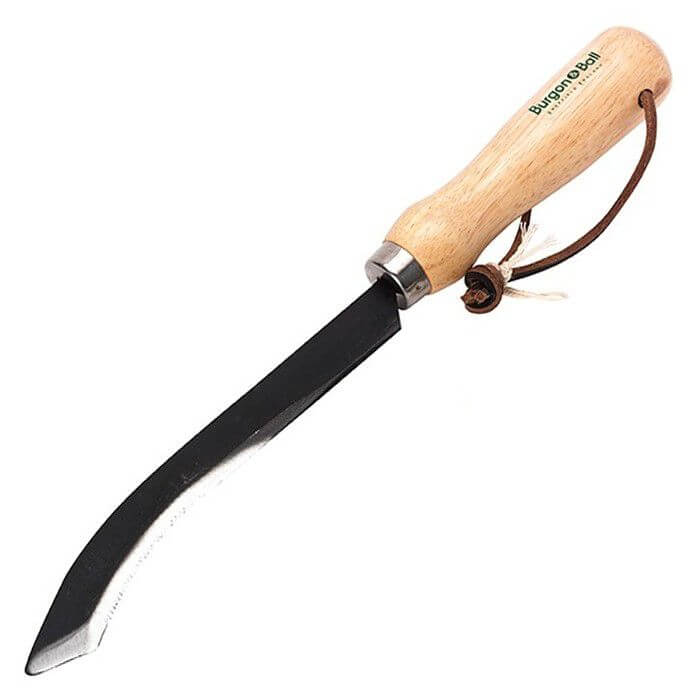 This asparagus knife from Burgon and Ball is a really high-quality piece and my favourite of all the ones I looked at. It has a carbon steel powder-coated blade, a hardwood handle and a leather strap for hanging.
The mix of the sharp edge and serrated blade allows you to cut asparagus in two different ways – either under the ground with a stabbing motion or at the surface of the soil with a sawing movement. It also comes with a protection sleeve. It's 31cm/12 in. long. Kept oiled and properly looked after, it should last you a very long time.
DeWit "Daisy Grubber"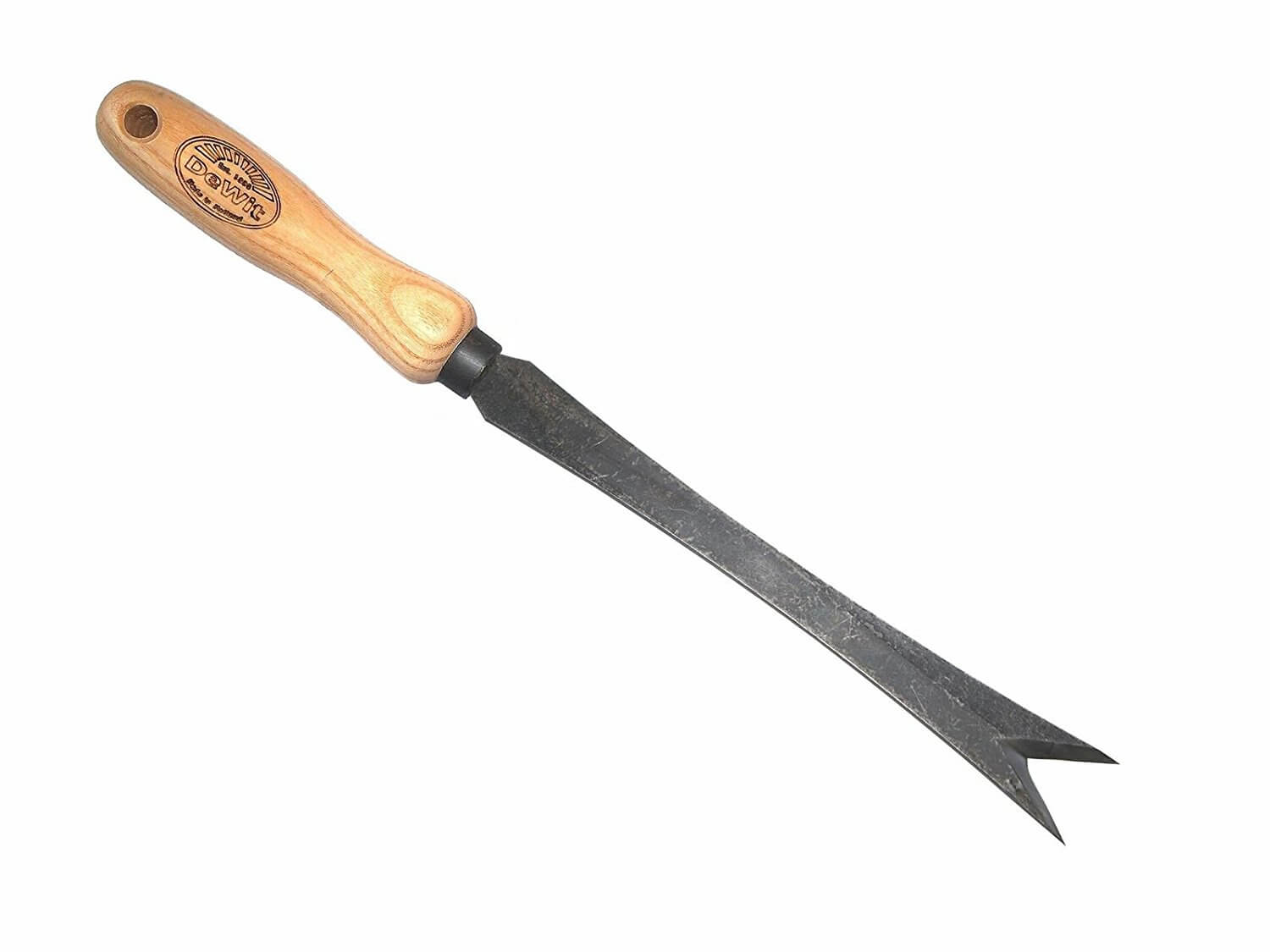 I really, really like DeWit products. They're a Dutch company and make a range of gardening tools. This "daisy grubber" – so called because it can be used to dig up small weeds like daises – has everything you would expect. Along with looking great, its blade and stem are made from powder-coated hardened steel and the hardwood handle is ash.
It comes with a lifetime guarantee (a vote of confidence if ever I've heard one). If you're anything like me, you'll know what it feels like to get attached to your gardening tools! I imagine this knife will soon cement its position in the shed family if you do decide to buy it.
Zenport 25 in. Asparagus Knife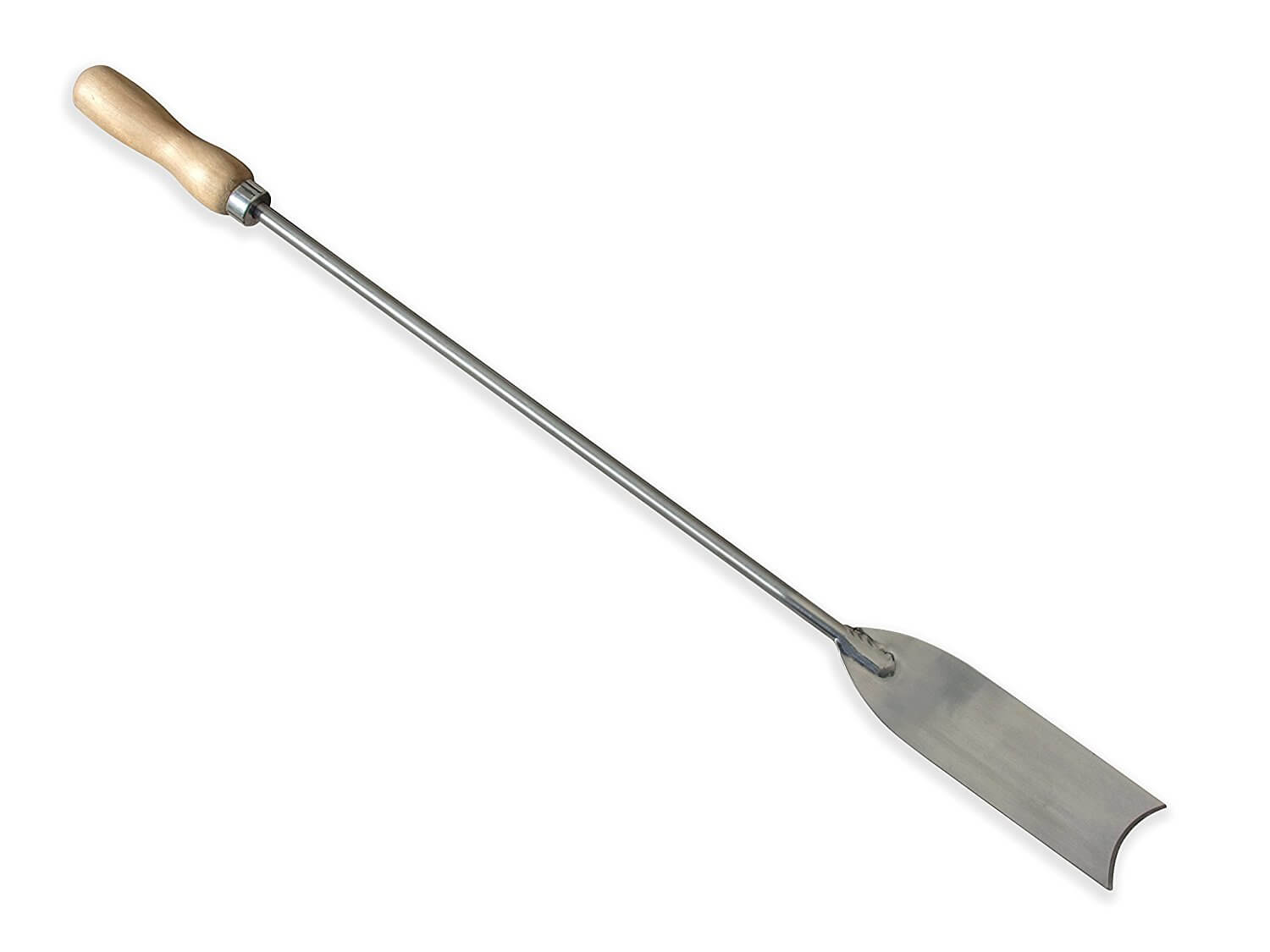 The main benefit of this asparagus knife is it's length. The 14.75 in. shaft means that you don't have to bend right down to harvest spears. If you've got a bad back that can be a big help. The blade and shaft are both made from carbon-steel, so are very hard-wearing. The blade itself is quite wide across (2 inches), which means that you will usually get a clean cut first time.
The only drawback is that the steel isn't coated, so it will be susceptible to rust. As long as it is properly cleaned and oiled, however, it should be fine. All in all it's a well-made piece. It will also double up as a weeder, so you can kill two birds with one stone.
Let us know your thoughts! Leave a comment below!
What are your thoughts? Have you tried any of the products on this list? Leave a comment below and let me know!
Image credit: Todd Heft