As far as I'm concerned, composting is one of the best things about gardening. Part of the reason I started growing food in the first place was to reconnect to the seasonal cycle of growth, rebirth and decay. I know that sounds a tad romantic! But it's the best way I can think of describing it! And composting encompasses the whole process.
Compost aerators are one of those tools that aren't absolutely necessary but that make life a little easier. In this guide I'm going to offer some general buying advice, along with a few of my favourite picks from around the web.
The short version: best compost aerators
Click here to jump to my reviews of some of the best compost aerators from around the web.
What is a compost aerator?
A compost aerator is simply a tool for turning and aerating your compost pile or the contents of a bin. There are two designs, which I like to call "plungers" and "corkscrews".
Both are easy to insert deeply into a compost heap and disrupt or turn it. It's the pulling action (out of the heap) that moves everything about.
A "plunger" is essentially a pointed pole with two folding tines. The tines, which close up when the aerator is pushed into the pile, open up again on lifting. A "corkscrew" (as pictured above) is turned into the pile and pulled up.
Do you need a compost aerator?
Often when I come across a new gardening tool, my first reaction is to deem it unnecessary. It can feel like a new invention solves a problem that can just as easily be remedied with a simple tool like a trowel. It was definitely what I thought when I first read about bulb planters!
Usually, however, I see the light. A lot of tools that on the surface can seem like overkill actually make the job significantly easier. And this is definitely true of compost aerators!
Turning a compost heap, especially if its in a bin, can be difficult with a fork. The design of aerators means that they can easily be "dug" into a pile and used to turn over the contents.
Aerators vs Other Tools
You can, of course, get by with a fork or spade. For big, compacted piles, however, or compost heaps in bins, they don't ensure even, thorough turning. For smaller heaps – where the only real option is a small tool like a trowel or hand-fork  – they can be a godsend. The alternative is usually getting your hands dirty with decomposing food!
Features to look for in a good compost aerator
As I've already mentioned, there are two types of design. There are a few things to look out for when you're buying. I've made a few selections below based on my own experience and from having an in-depth look at different products around the web. In particular, keep the following features in mind:
Aluminium or treated steel "blade" – As with any gardening tool, you want your aerator to be as rustproof as possible. Opting for a rustproof metal like aluminium will ensure that it lasts indefinitely. Alternatively, make sure steel has been powder-painted or treated in a similar way.
Padded handles – It's becoming increasingly common to see tools that feature "ergonomic" padded handles. Whether this is to ease arthritis or for general comfort, I'm not sure, but it can be something to look out for. Others aren't bothered at all. One of my favourite products (the DeWit corkscrew aerators) doesn't have any padding at all.
Warranty – Look out for a warranty. It's the norm nowadays for tool manufacturers to offer them. If you do have any problems, they'll be easy to sort out.
Best compost aerators: some picks from around the web
***Full Disclosure – Where appropriate, I've linked product images to commercial sites and Amazon (see Amazon Disclosure). If you buy from these sites, I earn a small affiliate fee, which helps me keep Urban Turnip going.***
1. 
Twist Compost Aerator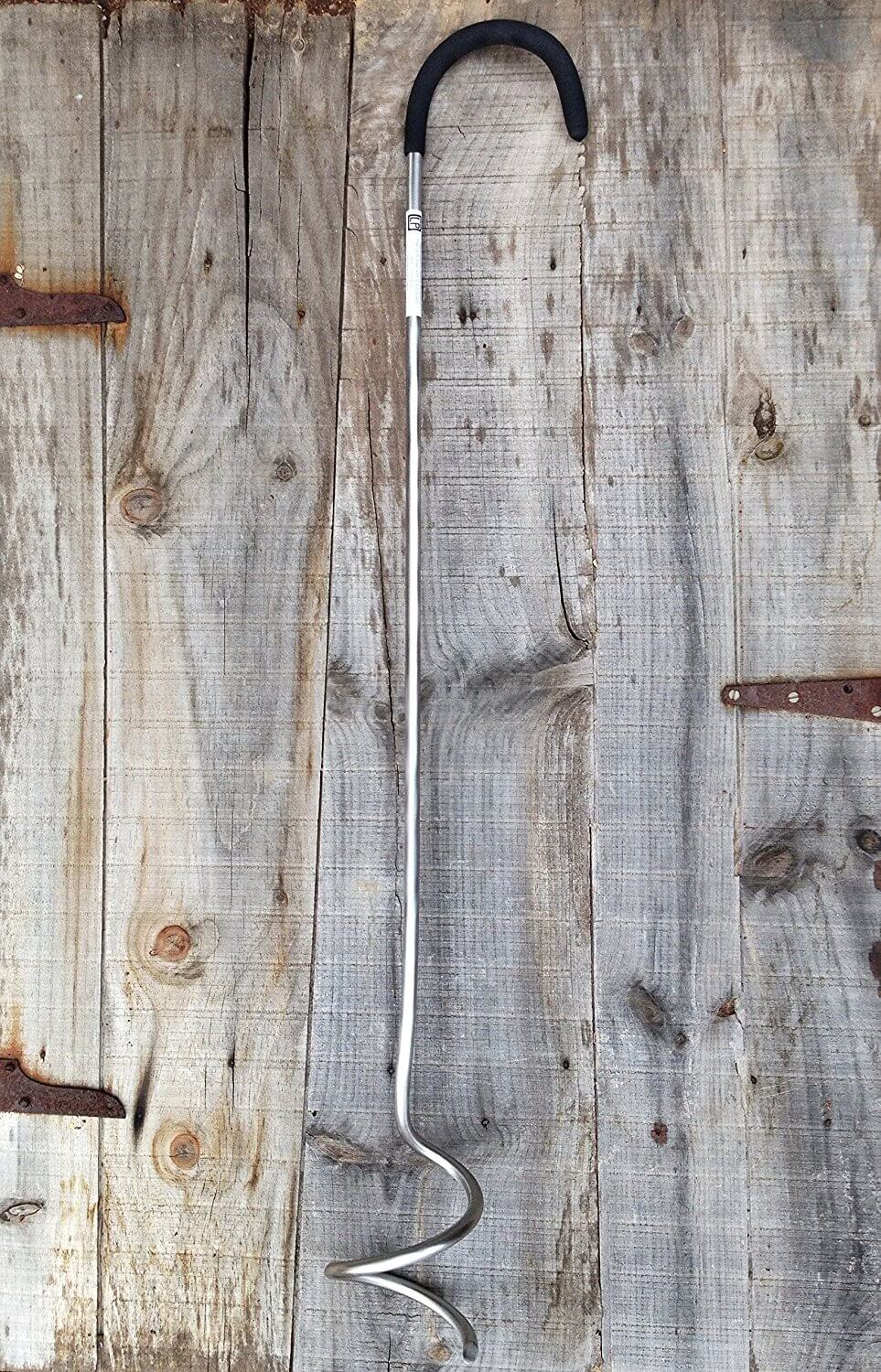 You could do a lot worse than this handmade "corkscrew" aerator. First off, it's made from recycled materials in a factory in Tuscon, Arizona. The main "blade" itself is crafted from rust-resistant stainless steel (look after it well and you shouldn't have any problems) and it's also 32 in. long, so will reach the bottom of a large compost pile.
The rubber-coated handle is an added bonus which makes it a little easier on your hands. Its an all-round quality product and I would highly recommend it. The only situation that I imagine it wouldn't perform ideally is with a small heap (you might want to try number three on this list). It comes with a lifetime guarantee.
2. 
Bosmere Compost Aerator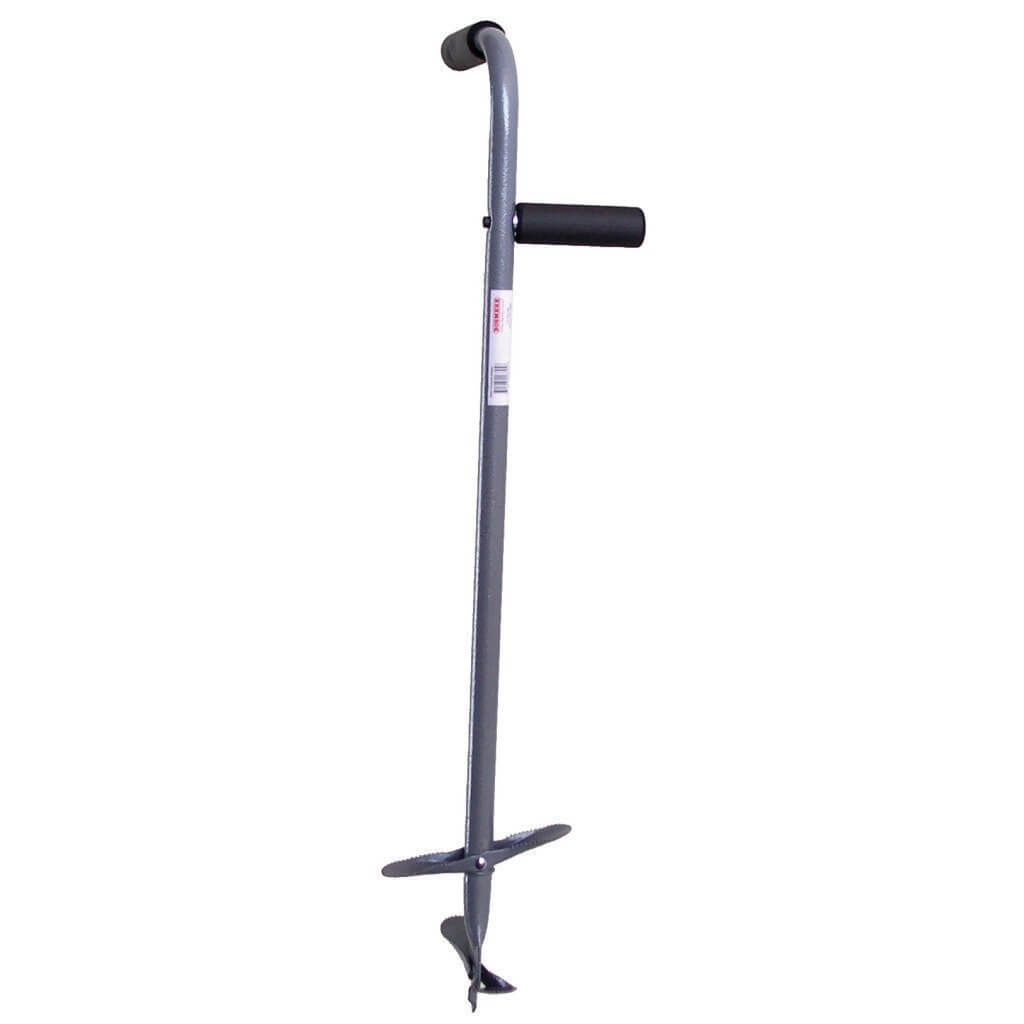 This is an example of what I called a "plunger" aerator. It has a corkscrew base for turning into compost, but the main feature is the set of extendible "wings" that allow for more displacement. Like the product above it has a height of 36 inches and is made from powder-coated, rust-proof steel. It has a vinyl hand grip. Bosmere are a good, trustworthy brand and, if you're after an aerator in this design, you won't go far wrong
3. DeWit Corkscrew Weeder with Short Handle

This is the plunger for the small-space gardeners and composters. I have to say, I absolutely love it! Everything from the handle to the "corkscrew" to the nuts and bolts speak quality. The ash handle is FSC approved and it comes with a lifetime guarantee.
Let us know your thoughts! Leave a comment below!
Have you tried any of the aerators in this list? Let me know your thoughts in the comments section below!
Image credits: Better Comost by normanack; Composting Bin by Cara Harpole; Compost Turning by Michael Blatherwick.