Kale is a container gardener's dream. It's hardy, resistant to pests and diseases (more or less), tolerant of poor soil, and incredibly nutritious.
The key to growing this wonderful plant in containers is to pick a variety that's both compact and tasty. Also, make sure your mix is well-draining.
Older leaves can turn bitter. To get the highest possible yield, opt for a variety that's known to be flavourful.
As a member of the species Brassica oleracea, it shares many of the same requirements (and some of the issues) as other cultivars like broccoli and cauliflower.
Factsheet
Germination/sprouting time: 7- 14 days.
Time from sowing to harvest: 6 – 10 months.
Size of pot: Medium (min. of 8 inches depth).
Difficulty of growing in pots: Easy.
Sowing and Harvesting Calendar
Sow: April to June.
Harvest: November to early May.
Overview
The ideal sowing time is from early spring to early summer, allowing you to harvest from late autumn, through winter, and into spring of the next year, when the plant will put on more growth before flowering. That said, some varieties of kale will produce for up to three seasons before bolting (flowering).
Grow from seed and use any generic potting soil with some slow-release fertiliser. Sow indoors in plugs and plant out after the seedlings are established. This will prevent slugs from feasting on the young leaves.
A little shade is OK, but ensure that your kale plants have at least some direct sunlight. When harvesting, use a cut-and-come-again approach, never taking more than half the foliage.
With that in mind, let's dig into some of the finer points of sowing, growing, and harvesting.
Potting Soil Tips
Kale is very unfussy and doesn't need high nutrition. Any store-bought mix will be fine.
Alternatively, for a DIY mix, combine one part compost, one part coir or peat, and one part perlite or composted bark. Add a little slow-release fertiliser or an equivalent amendment.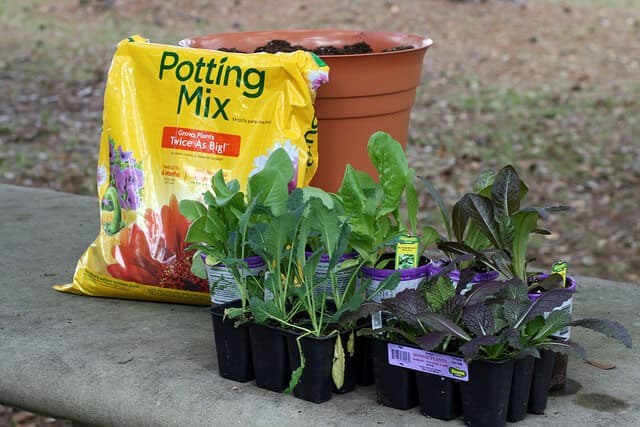 Add some extra drainage material like perlite or composted bark if you're going for a ready-made mix. Kale is very resistant to the usual Brassica enemies, and a free-draining potting mix will ensure that pests are kept at bay.
Ensure that your mix has a near-neutral pH. Kale doesn't like acidic conditions. Add a tablespoon of lime if using peat.
Sowing and planting
Kale tolerates shade. Sunnier is always better but if you haven't got the space or your spot is shady then don't worry too much.
Because kale is sown later in the year, you can always start the seeds indoors and plant out (around July) after you have harvested some of your earlier crops. Doing this will mean that you can take advantage of what would otherwise be empty space.
If you do intend to start in plugs and transplant, you should wait until seedlings are around 5 inches (10cm) in height before transplanting. Doing so will guard against slugs and birds. Sow two or three seeds per plug and thin out when they start to grow.
Growing Tips
Assuming that you already have some compost in your mix, kale doesn't need any extra nutrition beyond a typical feeding schedule, which should be weekly when it's actively growing.
If your plants are more or less dormant over winter, don't bother feeding them. Resume around mid-March when the weather starts to warm up, especially for sowings made late the previous year.
If you're growing through winter, provide some protection. Bubble wrap pots so the roots won't sit in frozen water.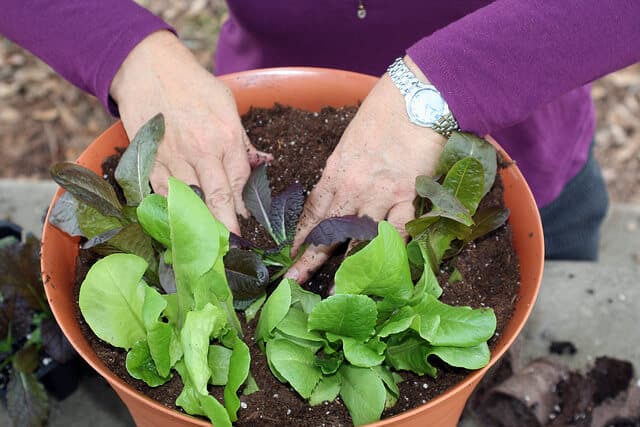 If you're growing on a windy site, stake with bamboo canes if the plants are tall, especially through winter.
Don't worry if the plants look a little unhappy through winter. You'll get lots of new growth in spring.
Harvesting
The usual advice when it comes to harvesting kale is to take a cut-and-come-again approach, favouring new growth and leaving the bigger leaves.
I tend not to bother too much about avoiding the bigger leaves as I like to cook them in soups. I always leave at least half of the growth through summer and autumn after the plant has established, pick a little through winter, and chop the lot off before it runs to seed in late spring.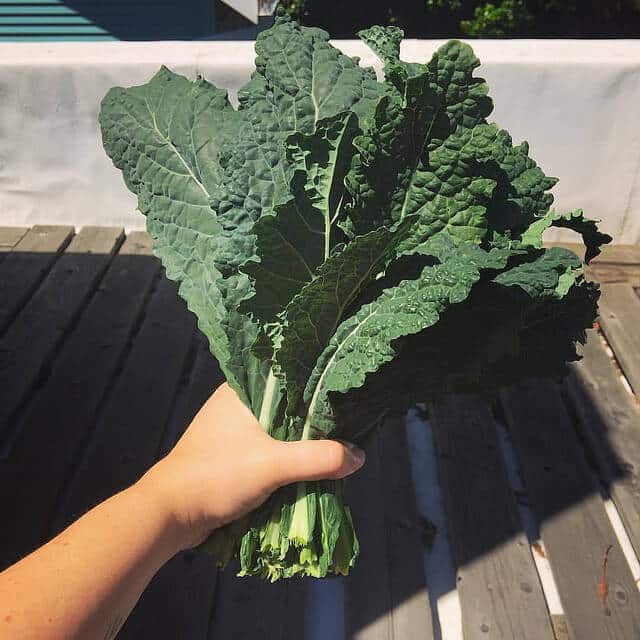 Always leave enough growth to allow the leaves to photosynthesize and thus for the plant to replenish itself.
Cut off the stems near the crown. You won't usually need a knife as they'll snap off easily.
Pests and Problems
Kale is largely trouble-free and issues are usually due to poor maintenance. As a Brassica, it's often targeted by many of the same pests that go for plants like cabbage, cauliflower, Brussels sprouts, and so on.
As I say, kale is probably the most unlikely to be the victim of pests, but here are a few things to look out for:
Aphids – Aphids – whether black, green or white – can be an issue, especially in hot weather. If you find little colonies on the underside of leaves, the best remedy is a natural insecticide.
Flea beetle – Flea beetles can be a pain in the proverbial bum. Look for holes in the leaves (as with cabbage worms). Spray with an insecticide if there's damage.
Cabbage worm/caterpillar – These blighters are green, translucent caterpillars that nibble away at your precious leaves. Look for little holes in the foliage. Prevention is a case of checking the undersides of leaves and scraping off any eggs (not a huge job if you're space isn't large). Treat by spraying with a homemade insecticide.
Powdery mildew – The risk of powdery mildew is heightened in moist, warm(ish) weather. Because kale is grown through the wetter months, it can occasionally be an issue, particularly if moisture is present in a city micro-climate in early spring. Watch out for a slight yellowing of leaves and white furry fungus. Starting seeds indoors is a good method of prevention.
Birds – Birds are usually only a problem with young plants. Avoid this issue by feeding by starting seeds indoors.
Good Kale Varieties for Pots
According to my trusty copy of The (New) Vegetable & Herb Expert , there are four main categories of kale: curly-leaved, plain-leaved, leaf and spear, and rape kale.
Plain-leafed kale has flat leaves as opposed to the rough, bumpy surface and frilly edges of curly kale. From what I've been able to gather, leaf and spear kale is a hybrid of a plain-leafed and a curly-leafed variety that is quite difficult to find nowadays. "Rape kale", though not referenced much online, seems to be the term for plain-leafed kale with leaves that have multiple lobes.
As a container or small-space gardener, compact dwarf varieties are ideal. Here are some of my preferred varieties:
Good varieties for US growers include
Dwarf Blue Curled – A compact, blue-green variety that tastes scrumptious.
Premier – A plain-leaf variety that is nice and compact, like Dwarf Blue Curled.
Red Russian – A bigger variety (up to just under a meter), but one that looks and tastes wonderful. Red Russian is a good option for greening up your patio or balcony outside of the usual growing season.
Good varieties for UK growers include:
Dwarf Green Curled – An old, reliable, and compact variety that's ideal for container growers. If you're unsure, go for this one.
'Starbor' F1 Hybrid – This variety is from Thompson Morgan's "Kew Urban Garden Collection" and is an ideal choice for container growers.
Nero di Toscana – A gorgeous-looking variety that is extremely winter-hardy.
Red Russian – Widely available in the UK as well as the US.
Oh, and don't forget that a little light frost sweetens the leaves!
In the Kitchen
Some great recipes from around the web:
More Resources
Kale is an interesting plant and one that seems to be growing in popularity. Here are some more resources to check out:
In The Vegetable & Herb Expert, D.G. Hessayon bemoans the lack of attention that gardeners give it. But the first book in the series was published in 1958 and it looks like things have changed. I've included a few interesting articles below for those that might be interested.
As a slight side note, it's probably also worth mentioning the many health benefits of kale. One of my favourite books on nutrition is Super Immunity by Neil Fuhrman. He has developed his own "nutrient density table" and kale is included at the top.
What are your thoughts? Leave a comment below!
Have you tried growing kale in containers? Leave a comment below and let me know how it went!
Image credits: Dwarf Blue Curled Scotch kale (« R☼Wεnα »); IMG_9912 (Gardening Solutions); IMG_9926 (Gardening Solutions); Kale (srsldy).