Note: There are two types of "peat pots" – the small fibre containers that you add your own mix too and the Jiffy product that contains a peat-based mix surrounded by mesh. This post is about the former (the ones in the picture above). 
Open up any vegetable gardening magazine, especially early in the year, and you'll find dozens of pages littered with pictures of peat pots – usually with a seedling or two peering out of the top. They look good (almost as good as the vintage stuff). They're much more natural than plastic module trays or repurposed toilet roll tubes…though don't get me wrong, I'm not averse to toilet rolls at all!.
If you're thinking about transitioning to peat pots in favour of plastic ones for starting your seeds, especially if you do most of your growing in containers (where you can pop the peat pots directly into the potting mix in the bigger pots when it's warm enough), then this post is for you. I've taken a balanced look at the pros and cons of using them and explored how different situations might have different demands. My final conclusion is that there isn't really a black-and-white answer: sometimes peat pots are called for, sometimes they're surplus to cost and requirement. I've also examined some of the most common problems that people experience when using them and talked about ways you can overcome them.
Finally, I've recommended some inexpensive, high-quality options at the end.
How are Peat Pots Made?
It's worth distinguishing between peat and biodegradable pots. Whilst all peat pots are biodegradable, not all biodegradable pots are made from peat (I'm sure you can spot the philosophy degree there). The former are made from compressed peat (usually with additional materials) whereas the others are made from a similarly compressed organic material – wood or coir fibre, for instance.
Sometimes you also get paper-mache type products too, which serve largely the same function. For our purposes, there's no major difference between them. They all do essentially the same thing and I'll use the term "peat pot" as a catch-all for the different types. Most are made of coir or wood fibre nowadays, so peat isn't usually a viable buying option anyway.
You may also have come across "Jiffy Peat Pots." These are a slightly different product, also used for seed starting, made up of a small amount of peat-based potting mix contained within a thin mesh. Watering causes them to expand and you just pop your seeds into the top. The idea, much like normal peat pots, is that you can plant straight into the soil and that root growth isn't inhibited by plastic walls. I'm not going to cover these.
Another Consideration – Peat Strips or Pots
There are two options that you've got when buying – strips or pots. Strips resemble modules and are much better suited for those veggie seedlings that you aren't intending to keep indoors for long periods of time. They're also cheaper.
The bigger pots are better for when you want to transplant a more mature seedling. If, for instance, you're starting plants early indoors, when the outside temperature is too low, you can get some decent growth before taking them outside. The same applies for tomatoes and chillies started early in the year.
Positive Aspects
They can be planted directly into soil. This is particularly useful for veggies that don't like being transplanted. Parsnips, carrots and corn for instance, are best started in these types of pots.
Root growth isn't (as) inhibited. By the time the plant's root system has grown large enough to fill the pot the absence of a physical barrier will mean that the roots won't start to twist along the sides of the wall. What tends to happen is that the roots stop growing and instead branch off. This can mean more robust growth (also called air pruning).
Negative Aspects
They're comparatively expensive, especially if you usually use plug trays.
Keepin the mix moist can sometimes be a hassle as the pot walls tend to be very absorptive.
Mould and fungus seems to like the damp compressed fibre.
Tips for Using Them
Take a selective approach to using them. The plants that hate being transplanted will benefit from them. These include carrots, parsnips, squashes, cucumbers, radishes, beets and peas.
If growing in larger pots, consider submerging them in sand to prevent the growth of fungus. Doing so will also allow further root growth. When the time comes for moving the plant you can lift it out of the sand which will fall away, leaving the roots undamaged.
The peat/fibre is usually very absorptive so regular watering is a must. Make sure your potting mix is well-moistened before you fill them.
Buy in bulk! A lot of people bemoan the price of these, year after year, when other options (like plastic module trays) are much cheaper. You can solve this problem by buying in bulk.
Where to Buy Peat or Biodegradable Pots?
1. (For the UK) Gardman Fibre Pots Value Pack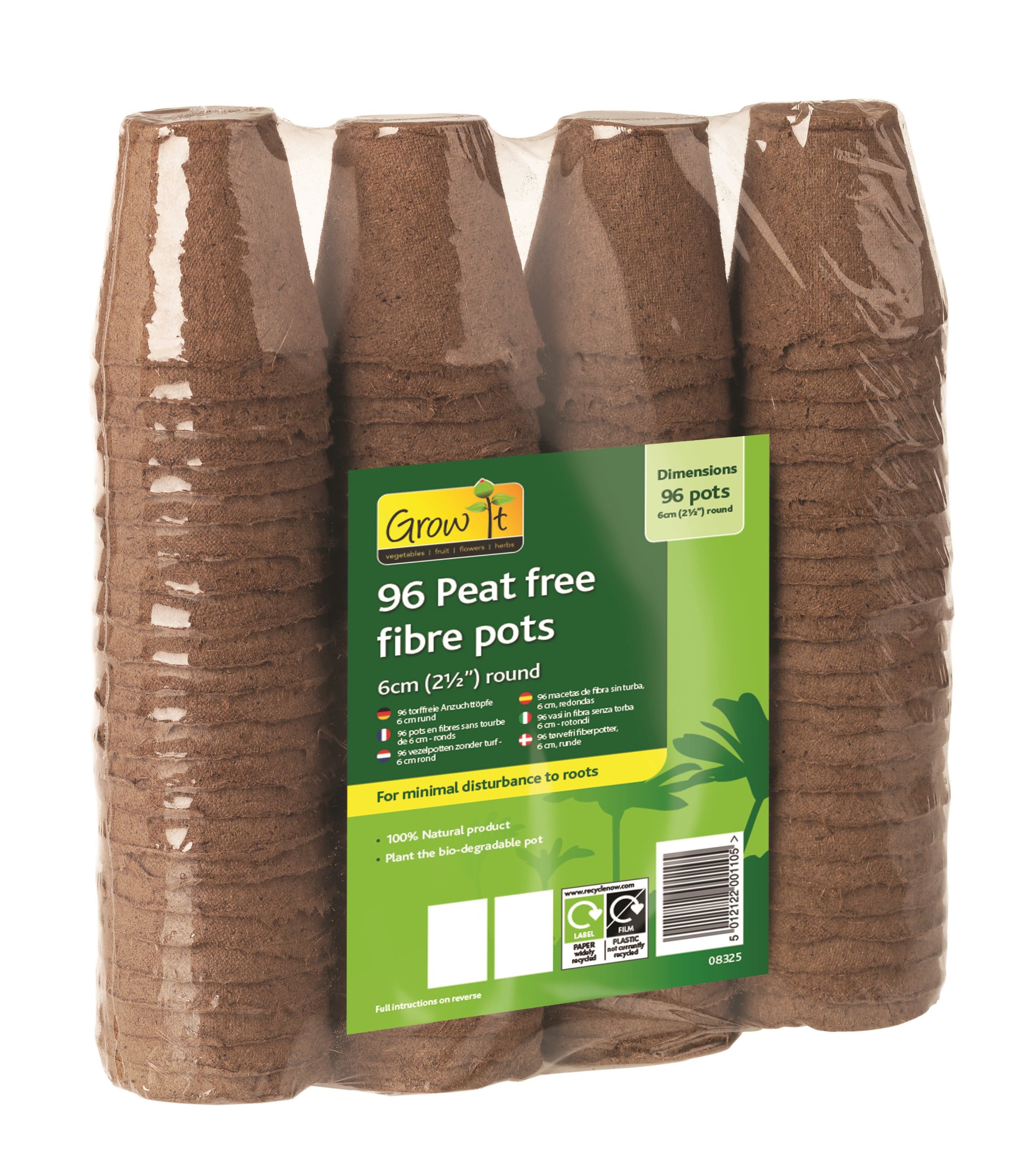 These are great for two reasons: they're inexpensive and they're completely environmentally friendly. The wood pulp from which they're made also isn't too thirsty, so won't wick huge quantities of moisture from the soil. They're the ones I use and I'm perfectly happy with them.
2. (For the US) Jiffy 3″ Pots (Pack of 100)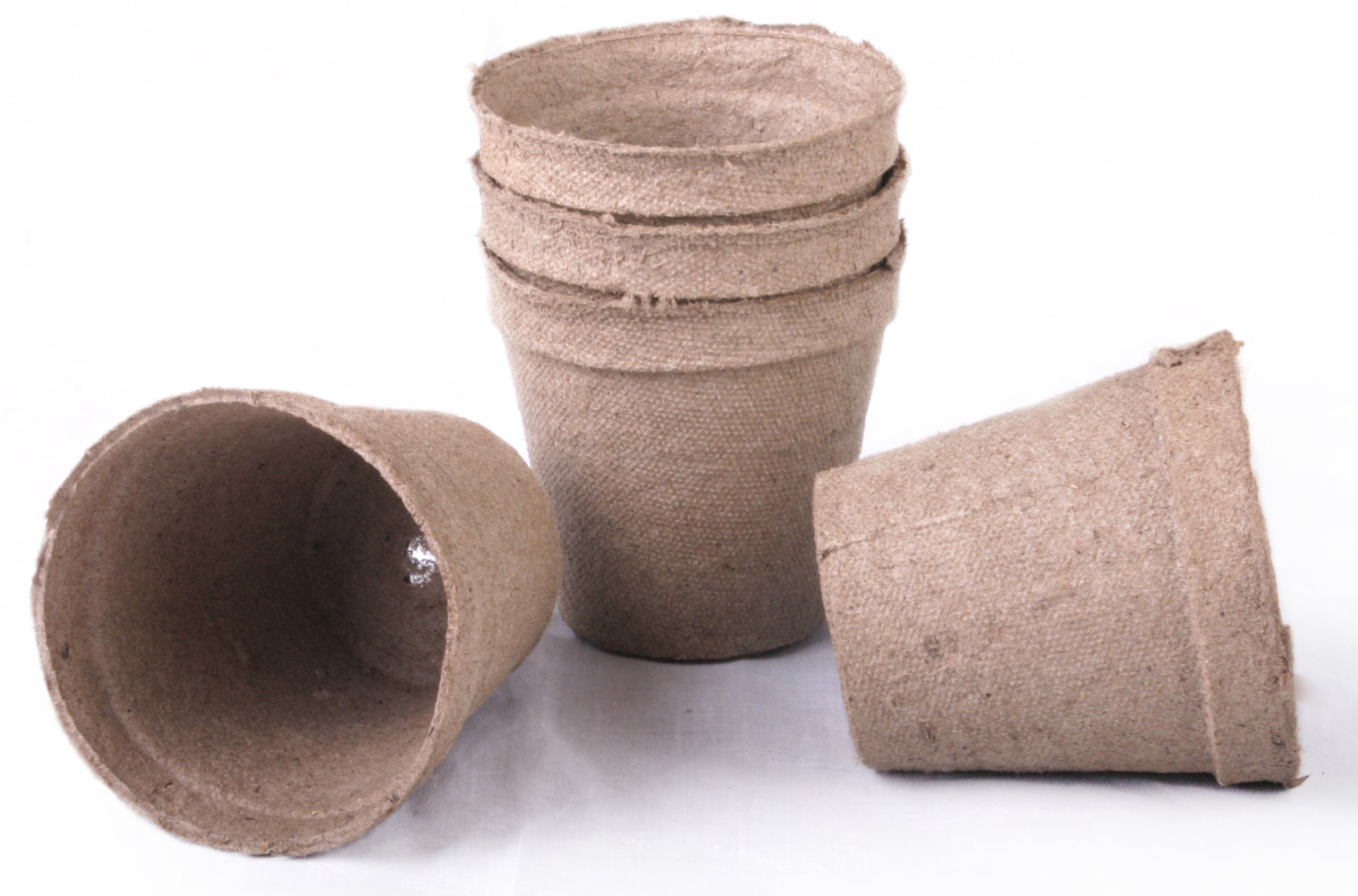 These are "Jiffy" pots, but not the peat-filled expandable ones. Again, the balance here is between quality and value. These are very well-priced for what you're getting (there's 100 of them) and equally well made.
What Are Your Thoughts? Leave A Comment Below…
I'd love to hear what your own experiences with peat/biodegradable pots are. I know it's a rather contentious issue and I'm always up for a good debate!
Image Credit: Lemony Snacker