The trouble with going for the rustic, ramshackle feel in your garden is that it can sometimes look a little bit forced. Having an old rusted watering can nestled amidst a clutter of mossy terracotta pots looks wonderful…but it takes time. Quite a bit of it, unfortunately.
And whilst you can hop on eBay to find a watering can that wears the rust of a few accumulated seasons…well, there's something about paying for a rusty can, even if it looks good, that feels a tad pretentious.
Nonetheless…I do like "vintage" gardening equipment – whether it's actually vintage according to the technical definition or not. If it's a real antique watering can, even better. In this little article I want to have a look at some of the vintage-style watering cans that you can buy online (general designs rather than specific products). They're functional and beautiful. Just click the images to go through to the retailers.
Vintage Galvanized Watering Can
The typical "vintage can" that most people imagine is actually made from steel in a traditional design, usually galvanized with a zinc outer coating, which protects it from rust. The main issue with these is, as they're not made from moulded plastic, that they can be susceptible to leaking. Go with a good-quality one however and you should be ok.
The weathering effect is very nice. Galvanized cans will rust eventually, which may or may not be desired, as the outer coating does corrode. But it can take decades. So if you do want the rusted effect (not something I'm personally a fan of) then eBay may be your best bet.
If you take good care of it, then it's likely that it'll last much longer than a plastic one…they also settle into retirement as plant pots much more happily too.
Can with Copper or Brass Finish
A lot of the cans come with what are called "copper accents" (or "brass accents"). What this means is that some of the smaller parts – the handles and floret, for instance – are made with a coating of copper. The weathering effect (copper turns a light green) can look very good and this is the main draw. Copper can, of course, be interchanged with brass, and a similar effect is achieved.
You can actually buy cans made entirely of hammered copper. They don't come cheap though. It's a material better suited to indoor cans…especially if they're in the kitchen and you own a collection of copper pans (Delia swears by them apparently)…though I don't know a single person who does.
This type has to be my favourite. All of the others listed below can also usually be found with brass or copper "trimmings".
Flowery Vintage Watering Can
These cans, along with the painted ones below, will usually be galvanized steel of the traditional design, finished with a waterproof coating. You can get a few pretty designs, like the one pictured above, if that's what you're looking for. The can may be described as "powder coated." This refers to a process in which powdered paint is applied electrostatically, allowing for a more durable finish.
Painted…
White? Yellow? Green? Black? These are lovely little cans that will sit perfectly on a patio or balcony. As mentioned above, they're usually of the traditional design (steel and zinc coating) with a painted outer. They come in a wide variety of options and are wonderful additions to any well-tended small garden (or big one for that matter).
And Finally, Plastic…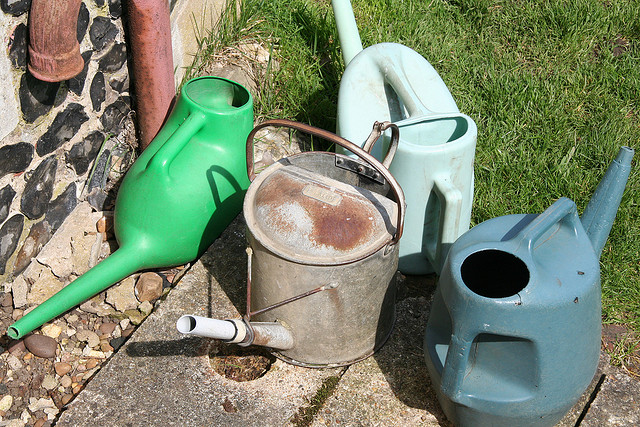 OK, so this is where you're probably going to have to stick to the true definition of vintage. Old plastic watering cans do look interesting – they have a kind of faded plastic effect, no doubt the result of dozens of seasons' worth of weathering in somebody else's garden. This time eBay, or perhaps Etsy, the specialist vintage marketplace, is likely your best option.
Bonus: The Wooden Handle (Almost a Real Antique Watering Can …Apart From the Age)
If you want an overt "patina" effect (the word used to refer to the green weathered effect that can be found on old metal) with a distinctly vintage look and feel (wooden handles) then Haws green can might be the way to go.
Send in Your Own Pics!
Have you got a weathered watering can languishing in the corner of your garden? Send in your pics and I'll pop them up here!