OK, so I've been meaning to write this one for a while! To be perfectly blunt, there aren't that many blogs about urban gardening. That is, blogs that have a heavy or exclusive focus on growing food in pots, small spaces or indoors. There are lots of books…but city gardening writers seem hesitant to transfer their skills to the web!
The term "urban gardening" is also a slightly ambiguous one. It can refer either to personal small-scale growing or to larger-scale "urban agriculture" – city initiatives (like the King's Cross Skip Garden), commercial food production in an urban environment or allotment collectives. These are blogs for people growing their own food and ornamental plants in the city (or small spaces). They're not all directly about urban gardening, but there's usually a big emphasis.
I'd also recommend that you check out my favourite urban gardening books. Like I said, really good garden writers tend to gravitate more to print media than the digital world. I've also listed what I think are the best UK food growing magazines. Anyway, onto the blogs themselves…
Vertical Veg is my favourite urban gardening blog. I think it's probably the best container gardening resource on the web. Mark Ridsdill Smith (the founder) was inspired to launch his own site after he started growing on his balcony in London.
He's carried out numerous interesting challenges (like trying to grow £1000 of food) and also runs a club. His info strikes a perfect balance between accessibility and a proclivity for less-than-usual plants and practices (I first heard about bokshai composting through him).
In my opinion, Alys Fowler is one of the best gardening writers in the world. She writes a regular column for The Guardian where she tackles common questions in a warm, concise way that belies a deep knowledge and affinity for gardening and the natural world (she's studied at every botanical garden worth its soil).
Her work can also be tremendously personal and you'll find yourself coming back every week to connect with this person you've never met. She also includes info about container growing (having lived in cities) in many of her articles.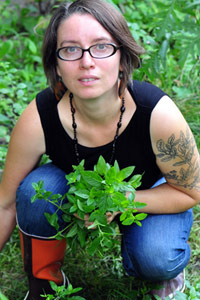 You Grow Girl is overflowing with the personality and charm of Gayla Trail, its founder. It's just such a wonderful blog. She started it because she wanted to cater specifically to urban gardeners working on a shoestring.
Though her gardening space has gotten a little bigger (you can follow her journey from the very beginning), she shares all the details of her yearly activities and her writing has a great personal touch. She's also authored numerous books that are worth checking out too.
The Modern Veg Plot is a small blog that covers one allotment-growers passion for unusual and interesting veggies. It's great as a source of inspiration and I've gotten a lot of new ideas from it. There are also some grow guides for "lesser-known" plants.
The other joy is that the content is simple and to-the-point. I wish there were more sites like this.
This is one of my favourite gardening blogs. There's a lot of misinformation about gardening and Robert Pavlis has taken it upon himself to debunk a great deal of it. It's absolutely fascinating reading for anybody with even the slightest interest in gardening and I'd heartily recommend that you check it out.
I first heard about Naomi Schillinger in Grow Your Own magazine, where she writes a regular column.She doesn't update her London gardening blog all that often, but when she does it's well worth reading. Lots of great photography and a nice personal aspect too.
Other blogs (and people) worth mentioning:
Know about a great blog? Get in touch!
I would like this page to continue to grow as I come across more blogs, sites and noteworthy people. If you have any of your own favourites, please do get in touch and let me know, alternatively leave a comment below.
Oh, and don't forget Urban Turnip! Join the mailing list below if you haven't already.
Image credit: Urban Garden by Michael.