It's the start of the year! Now is a perfect time to sketch out growing plans for the coming months. Working out sowing times, particularly staggered timings of fast-growing veggies like radishes and lettuces, will pay dividends a few months hence in the form of a continuous supply of edibles, whilst also letting you make best use of your container-filled space.
Despite the frosty weather outside, January is a month brimming with as yet uncultivated promise. There are still jobs to be done and (if you're the impatient type) sowings to be made! In this guide I'm going to give you a quick rundown of the tasks in the container garden throughout January.
Planning Ahead
Plan staggered sowings of fast-growing veggies: Work out when you'll need to sow and plant out successional container veggies like lettuces and radishes. Having a good plan will give you the best chance of a continuous supply.
Container companion planting: It's also good to think about what you might companion plant alongside your staggered sowings. Bedding plants sown early will come into bloom at just the right time for popping into pots.
Buy materials for potting mix: The ingredients for your potting mix (if you're putting together your own) are best ordered now rather than later. It's better to be sitting on things like coir, perlite, vermiculite, granular fertilizer etc. for a while, rather than end up short when March comes around.
Decide which plants you're going to buy: Buying plugs through the post is often easier than sowing, especially for those plants that are difficult to germinate. They won't be ready just yet but they can sell out quickly so move fast when they're available.
Check for new seeds and varieties of your favourite veggies: If you have a predilection for a certain variety of seeds for container gardening, order them now to make sure they don't run out. Similarly, now is also the time to order rare and unusual varieties for the same reason.
Jobs for January
Buy and sort seeds! This one goes without saying, of course. Cold winter evenings (let's put the fire on just to finish off the image) are the perfect time for browsing seed catalogues. Now is also a good time to make sure you get what you ordered. Deliveries can be a touch hit-and-miss, especially with smaller suppliers. I'm probably going to sound like a stuck record here, but check out new container and dwarf varieties. Store seeds in tupperware somewhere cool and dry.
January is usually the coldest time of the year with February a close second! Both months will be colder than December so if you haven't already wrapped the pots holding your perennial plants in bubble wrap then do it now. The table below gives you an idea of what to expect in terms of temperature (the graph is based on London). Container growers in cities will benefit from a warmer microclimate but it can still get pretty nippy!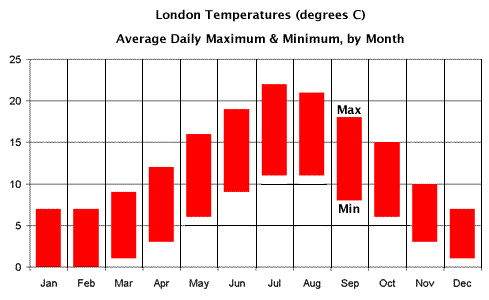 (Source)
Buy seed potatoes: Seed potatoes aren't ready for putting into grow bags yet (if you want some info about the best types of pots to grow in check out this article) but buying now will mean you can have your  favourite varieties. They'll keep happily in a cool bright(ish) space. First earlies are best for container growers because you can get them started early in the year and harvest them with time for another crop. They also take up less space than maincrop varieties.
Wash out pots and seed trays: Most of your growing containers and planters will likely be empty in January so pick a warmish day to wash them out with warm water and a drop of bleach. This will ensure that any lingering diseases are eradicated.
Prune fruit bushes: You can prune summer and autumn raspberry canes if you haven't already. Other woody fruit bushes like blueberries might also benefit from a prune.
Sow in January
Sowings in January can be a bit hit-and-miss. Remember that daylight hours are at their lowest in the whole year. Although plants will grow in south-facing windows and bright greenhouses or mini-greenhouses, low levels of sunlight will limit photosynthesis and seedlings can end up weak and leggy.
Plants that don't need lots of light, like salad leaves, will do OK, especially if you can supplement the daylight hours with a grow-light (though this isn't absolutely necessary).
Salad Leaves: Pick your brightest spot indoors, or outside in a greenhouse, and make some sowings of salad leaves. Lettuces and mustard greens will work well.
Show onions: By sowing show onions now (you will need to buy special seeds) they'll get the long growing season they need to reach a gargantuan size. Even if you're not planning on entering any shows it can be fun growing a few big ones. They'll need to be sown in a propagator and maintained at a temperature of around 15°C/60°F.
Broad Beans: Broad beans can be sown now with a little protection (in a greenhouse/mini-greenhouse) or indoors for planting out when it warms up in March and April.
Garlic: Garlic cloves need a cold snap of around six weeks to trigger growth, so now is a good time to pop them into pots outside. Make sure your container mix is very free-draining to avoid rot.
Grow in January
Rhubarb: Plant crowns now.
Bare-root fruit trees and bushes: These can be planted now. Raspberry canes work well in the big potato grow-sacks.
Overwintering veg: Keep an eye on overwintering veg and add any protection that might be needed. Straw on the ground and fleece are always good options.
Indoor veggies: Don't forget about sprouts and microgreens!
Harvest in  January
There are three types of harvest-ready plants at this time of year: root vegetables that were ready to pick during autumn but that have been left in their pots (like parsnips), late-maturing crops like kale, cabbage and brussels sprouts and, finally, late-sown greens which have either been protected or left out to overwinter (to resume growth again in spring).
Cabbages: Winter cabbages and savoys can be harvested now if you've grown them over winter in pots. Knock any potting mix off the stems and roots and add them to the compost bin/heap. A good tip before composting cabbage stems is to chop and mash them up, as they are woody and can take time to break down.
Kale: If you have grown kale through autumn and winter now is an excellent time for harvesting. A touch of frost sweetens the hardy kale plants should they should be just about ready for eating now.
Swiss chard: Late sowings of swiss chard can still be picked if they've been left (though they may have died back) out or kept under a cloche/glass. Cutting back to the base will mean a fresh spurt of leafy growth in spring.
Spinach: Overwintering spinach can be lightly picked.
Leeks: If you have left leeks in pots over winter then now is a good time to harvest. Leave those that are overwintering and not yet fully-grown for later harvesting in early summer.
Sprouts Now is the time to harvest sprouts if they weren't all boiled up for Christmas dinner! Don't forget to use the leafy tops too! They're scrumptious!
Parsnips, swedes and jerusalem artichokes: If you have left these in their potting mix then now is as good a time as any to pick them before the ground becomes too hard.
What are your thoughts?
What have you been sowing and growing in your container garden this January? Leave a comment below and let me know!
More resources
Early sowing guide from The Guardian
Image Credits: Lettuce in Container by mwms1916; Seed Starting by Cristina; Frosted Kale by Sally;