Last updated: December 2019.
It doesn't matter whether you're tending to a tiny balcony or a ten-acre plot. You need a broom.
You can do away with a lot of tools and still manage. Bulb planters, kneeling pads, outdoor clocks – they're not all absolutely essential.
Brooms, on the other hand, are hard to do without. And I don't mean for achieving the intrinsically satisfying look of a swept patio or greenhouse floor.
If you're doing any kind of gardening work – potting up, pruning, harvesting – then you're going to make a mess.
In this post, I've taken a look at some of the best brooms on the market. There won't be any floppy handles or unattached heads with these brooms.
Let's dive in.
The Short Version: Best Outdoor Brooms
Click here to jump to our in-depth reviews of the best outdoor brooms.
Guide: Parts of a Broom
There are three essential parts to any broom: the handle, head and bristles.
On the heavy-use end of the spectrum, you have piassava brooms, so-called because the bristles are made from the fronds of the piassava palm. They tend to have a wide and heavy wooden head.
Nowadays, bristles are mostly made from synthetic fibres, particularly nylon. That said, you can still find traditional models.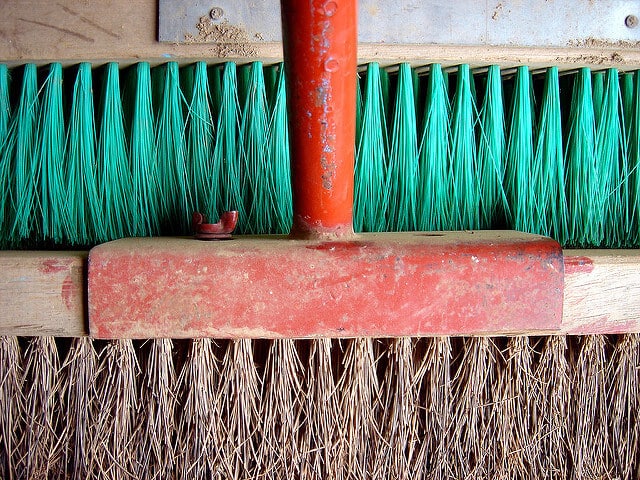 One of the main problems with old-fashioned brooms is that the handle eventually comes loose from the head. You can now buy models with anti-rotation locking systems, which overcomes this problem, so that's something to be aware of.
Good Brooms and Bad Brooms
Generally speaking, the wide-head brooms (whether made from nylon or piassava) are less than ideal for gardening purposes.
They're too big to get into crannies and it's difficult to put any weight on them.
At the other end of the spectrum, you have soft-haired indoor brooms. Like the wide-head types, these are largely unsuitable for outdoor use and should be avoided.
It's also worth mentioning corn (or "sorghum") brooms. They have a rustic look about them but aren't ideal when it comes to "real" sweeping up. While they can be good for larger debris, they won't pick up smaller pieces.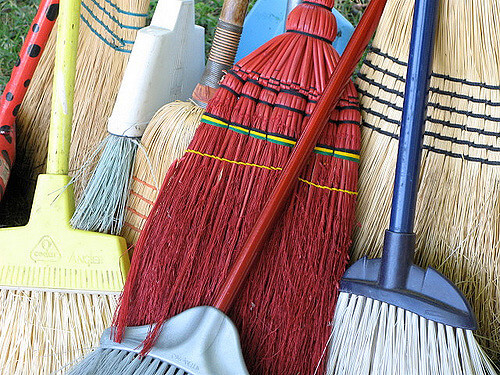 Features to Look for in a Good Broom
The best outdoor brooms have medium-sized heads and short(ish) fibres.
This design is good for picking up all sorts of garden materials and nimble enough to manoeuvre into hard-to-reach places.
Here are the main features to look for when picking a broom:
Strong bristles – Though both work well, nylon or synthetic bristles are usually more hard-wearing than those made from natural fibres. Just make sure that they're stiff.
Screw-in handle – Look for an anti-rotation locking device where possible. Always go for a screw-in handle. Handles that are slotted in (and usually glued) invariably come loose and are a nightmare to put back together.
Width – As I mentioned, the really long-headed brooms are hard to weigh down. Heads above 18 inches wide are, in my opinion, best avoided unless you've got a really big space to look after.
Best Outdoor Brooms: Top Picks for 2019
***Full Disclosure – Where appropriate, I've linked product images to commercial sites and Amazon (see Amazon Disclosure). If you buy from these sites, I earn a small affiliate fee, which helps me keep Urban Turnip going.***
1. O-Cedar 18″ Broom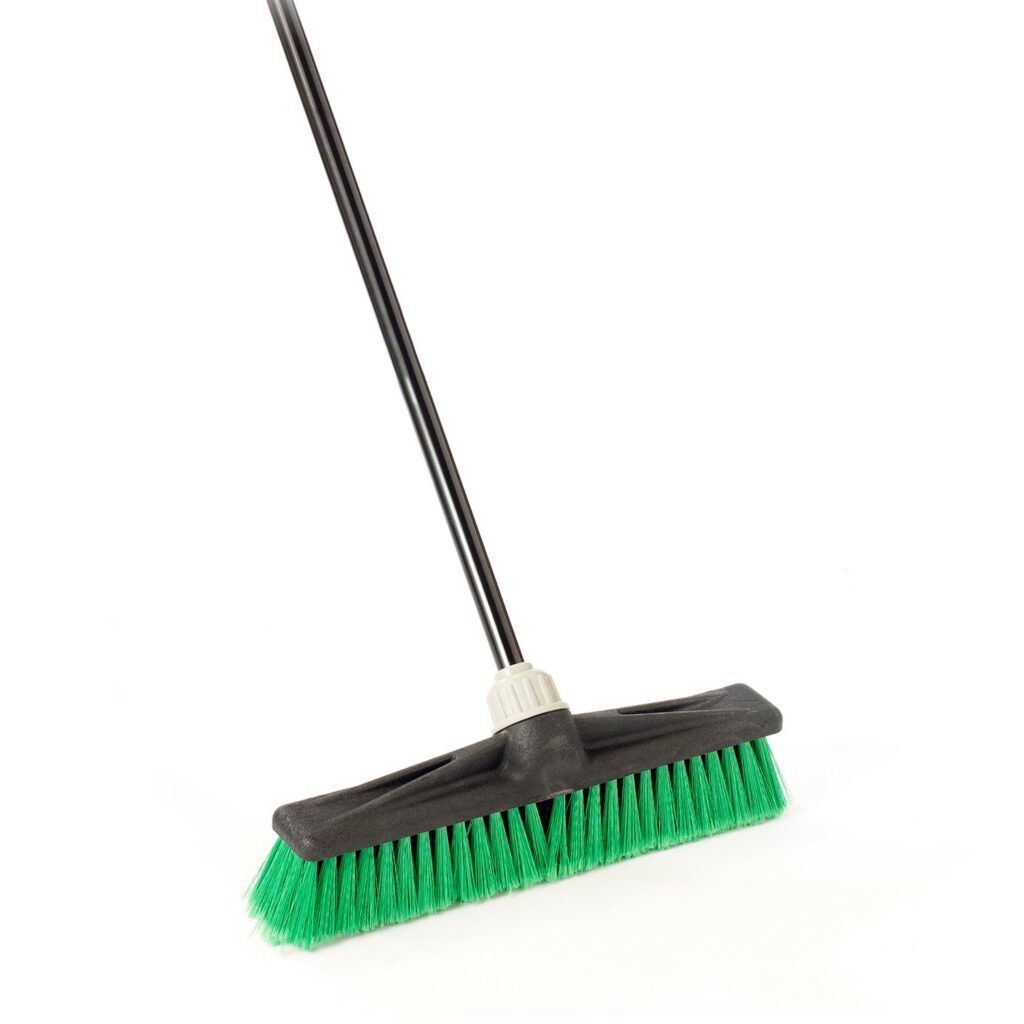 If you're looking for a sturdy, durable broom in a fairly standard design then this 18-inch model from O-Cedar, a company with a strong environmentally-friendly ethos, is perfect for you.
The head is made from a hard-wearing resin-like composite material and has an anti-rotation socket that clicks as well as screws into place – think of the child-safe lids on medicine bottles for a rough idea.
The brush itself is made from two types of nylon bristles (which are made from recyclable materials) with a more compact central section which gives a little extra force when sweeping. The head size of this broom is ideal, allowing you to apply pressure while still covering a good area.
2. Black and Decker 24″ Broom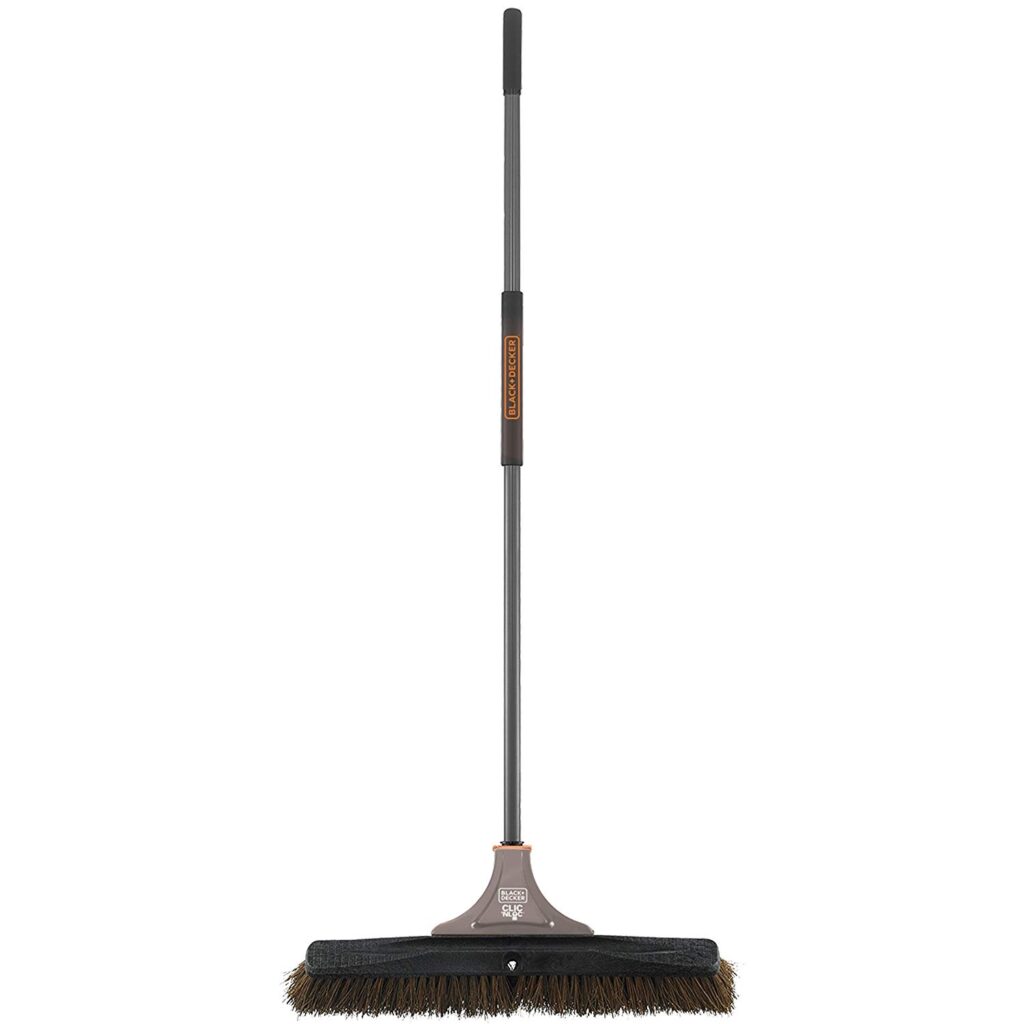 The trouble with big "industrial level" brooms is that they're not very nimble and it can be hard to apply pressure on them. If you do need to cover a bigger space, however, then this 24-inch broom from Black and Decker overcomes some of these issues.
Like the O-Cedar model, it has an anti-rotation lock for securing the handle. The pole is made from steel (so is stronger than wood) and also has a central cushion for extra grip and comfort.
A unique feature that I haven't seen in any other brooms is the steel brace that holds the head at an angle. This allows you to apply more force and gives a generally sturdier feel.
3. O-Cedar Angle Broom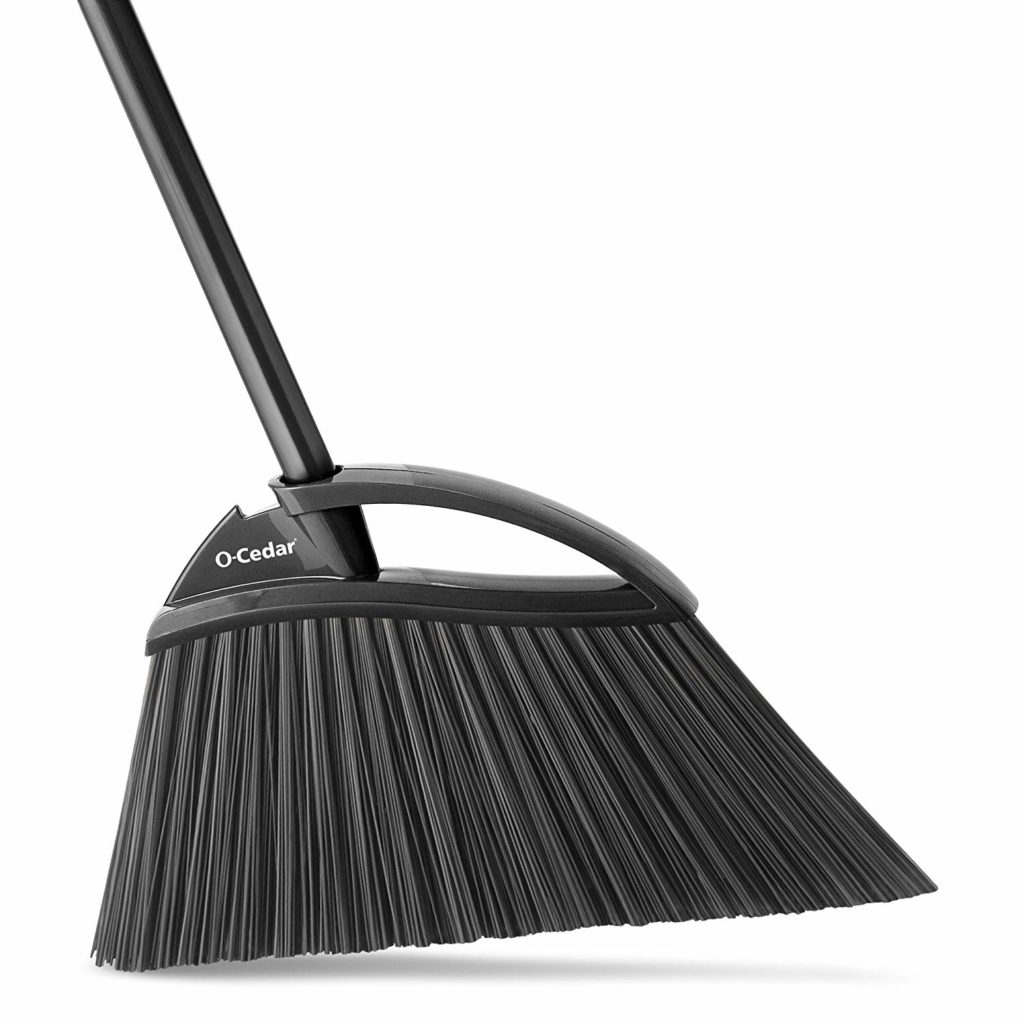 The angular design of the O-Cedar angle broom makes it easier to get into corners. If you have a patio or balcony with lots of tight spaces and crevices between pots, then this broom is ideal. It's also good to have along with a bigger broom for tidying up small pieces of debris.
This O-Cedar Angle Broom has stiff synthetic bristles – made from recycled plastic bottles – and a tubular cushion on the handle. The main issue with angle brooms like these is the low strength of the bristles, but that isn't a worry with this one. The handle is also long, which makes a nice change from waist-high models.
4. "Asian" Broom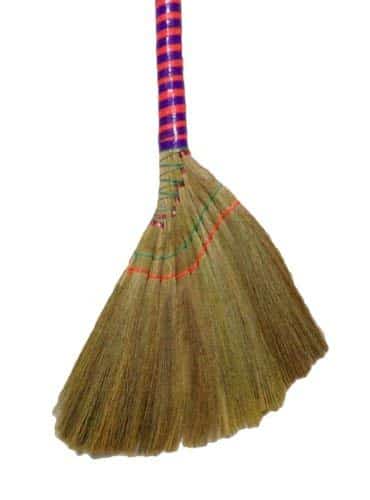 For those tending to smaller space outdoors, this Thai-style broom is ideal. I'm a touch biased (I travelled to Thailand and developed a slightly abnormal affinity to these brooms), but they are surprisingly suitable for patios and balconies. The bristles are stiff (some kind of tough grass), and they're not too big. This broom is also suitable for indoor use.
I've found it's easy to knock dirt and debris off the bristles and I've never had an issue cleaning them – just a few taps over the side of the patio.
The other great thing about these brooms is that they're inexpensive. The occasional bristle will come away, but I've never found this too much of a problem.
5. Coconut Palm Broom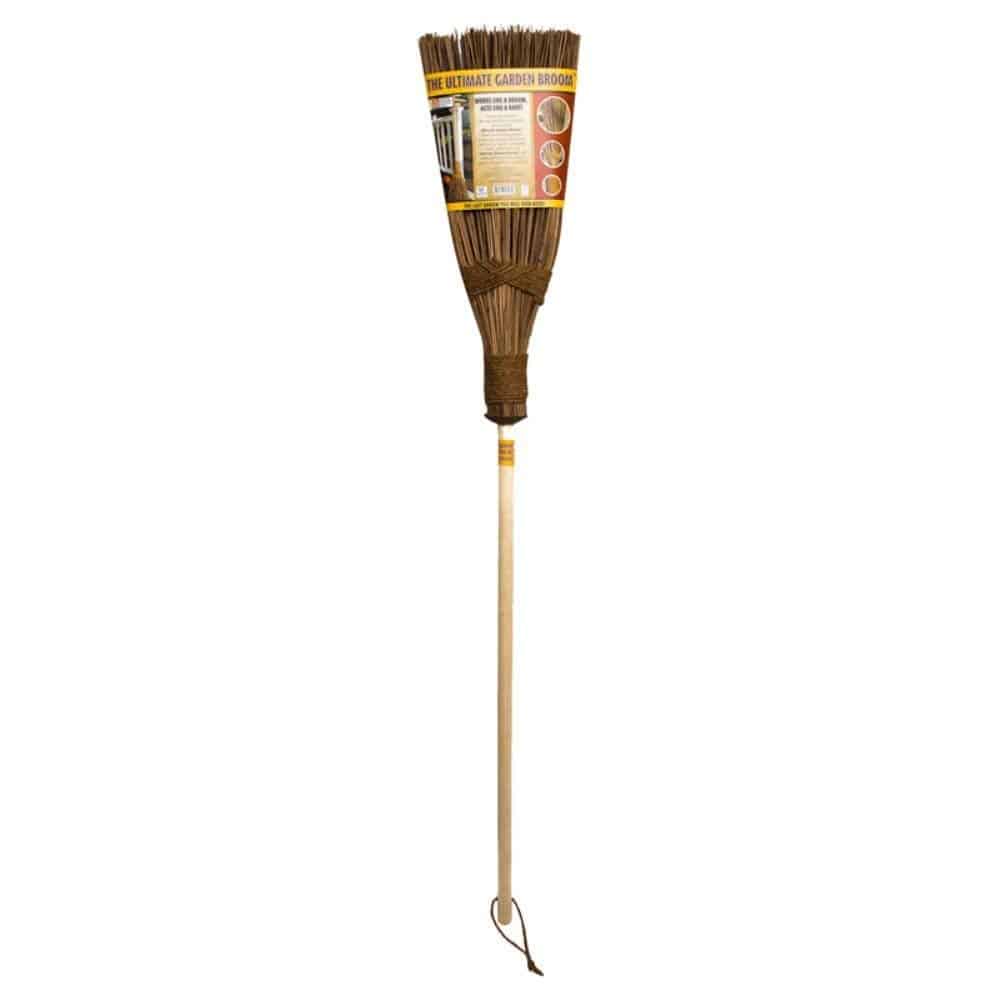 I know I decried "corn brooms" as being generally unsuitable for "proper" cleaning, but this palm broom is in another league.
For one thing, it's very durable. The fibres are made from coconut palms and tightly sealed around the base of the handle in a traditional design.
It also really looks the part. There's no plastic (it's all wood) and it's weatherproof. You can leave it propped up without having to worry about the rain and heat. Because of the strength of the bristles, it's also suitable for sweeping away snow.
Let us know your thoughts! Leave a comment for me below!
What are your thoughts? Have you tried any of the brooms in this list? Do you have your own suggestions? Leave a comment below and let me know!
Image credits: Brooms by Angie Harms; Quidditch by Rootytootoot; Brooms by yukari abe.