Though I've designed this guide to be relevant to those working in both small and larger-sized gardens, I do think that solar powered lights have a lot to recommend them specifically to those who are in an urban setting. Alongside, the obvious ambient appeal, there are a few other good reasons to consider them.
Tall post lights are easily held by the soil in pots and take up very little space. They're also good for lighting the garden in the evening, which for many is the only time of day during which they're able to tend their plants. Equally, if space is at an absolute premium, they can be attached to the wall.
Another thing that many don't realize is that solar garden lights are available in a variety of models – fairy lights, overhanging and even stand-alone types are all available. You can pick up, quite cheaply, show lights (we include some below)
The reviews here cover a range of types and price points, everything from motion-sensor beams to ambient border lights. Enjoy…
What Are the Options?
There's a few issues with solar lights that need to be accounted for when you're choosing. The first relates to the solar-powered batteries. One that wears out after two or three years is probably not offsetting its environmental cost through the solar energy it generates. Another is many garden lights' inability to stand up to bad weather, leakiness being the obvious concern but low temperatures also being a possible hazard.
So higher-end models are the preferred options. Investing in a light or lights that will likely last for a decade or more, as opposed to a few years, will prevent problems arising later down the road. They also invariably look better, too.
Our Pick of the Best Outdoor Solar Lights (for 2017)
1. [amazon text=LEPower S3&localise=1&search_link=0&multi_cc=0&live=0&asin[us]=B00X5M1E6Y&asin[uk]=B00X5KTEDQ]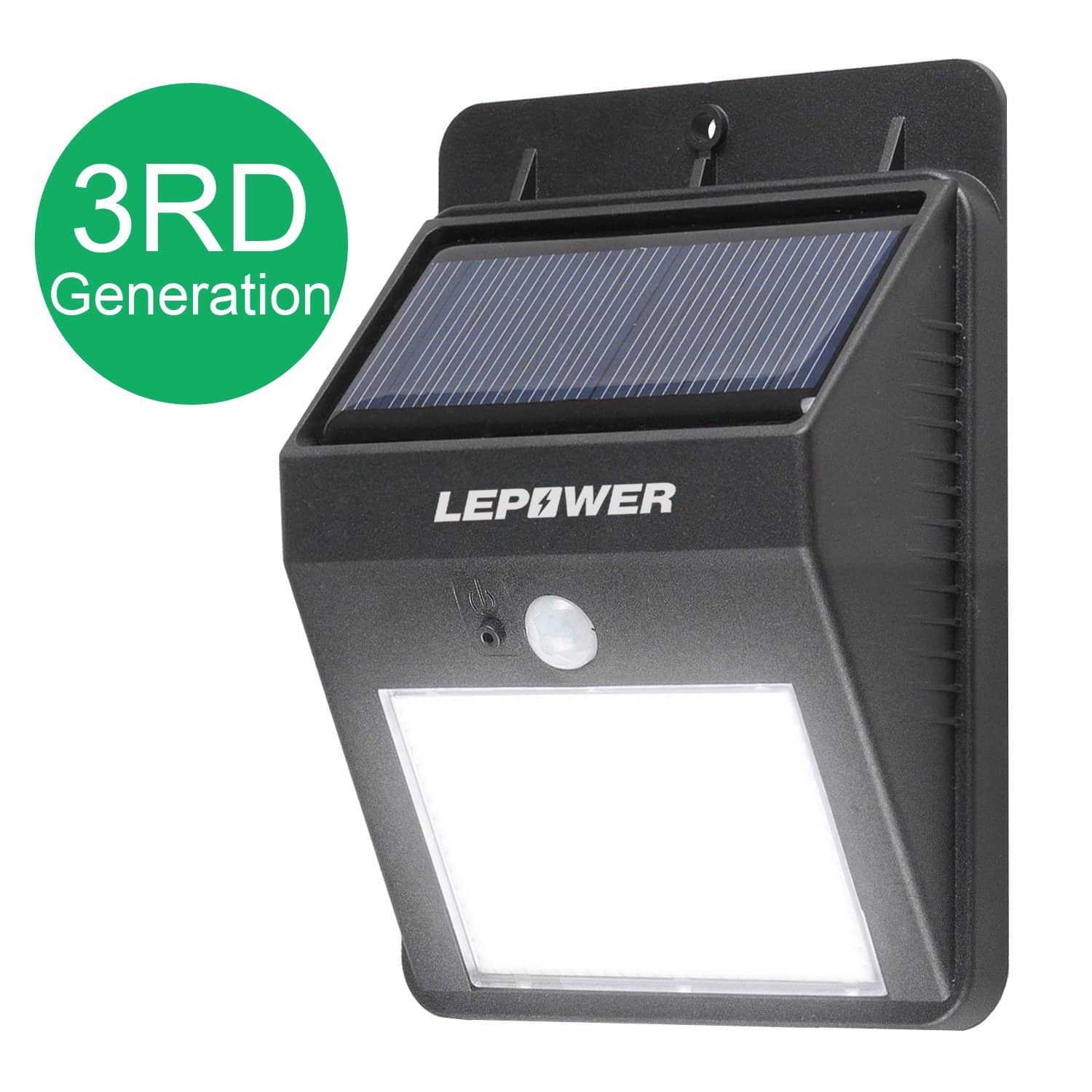 The LEPower 3rd generation light is one of the highest-quality models going. It has three settings: full-beam, dim and off. The full-beam light is operated through a motion sensor and lasts for twenty seconds after movement has been detected. The default night setting, which lasts for up to ten hours after a full day's charge, is dim mode.
Because of it's brightness, and the quality of the motion sensor, it's perfect for a multitude of uses, including for outside during gatherings. It's very well-made, fully waterproof, and completely self-contained (the solar panel is on the top). It comes with screws and wall plugs.
2. [amazon text=Hoont LED Spotlight&localise=1&search_link=0&multi_cc=0&live=0&asin[us]=B00MIZM206&asin[uk]=B00MIZM206]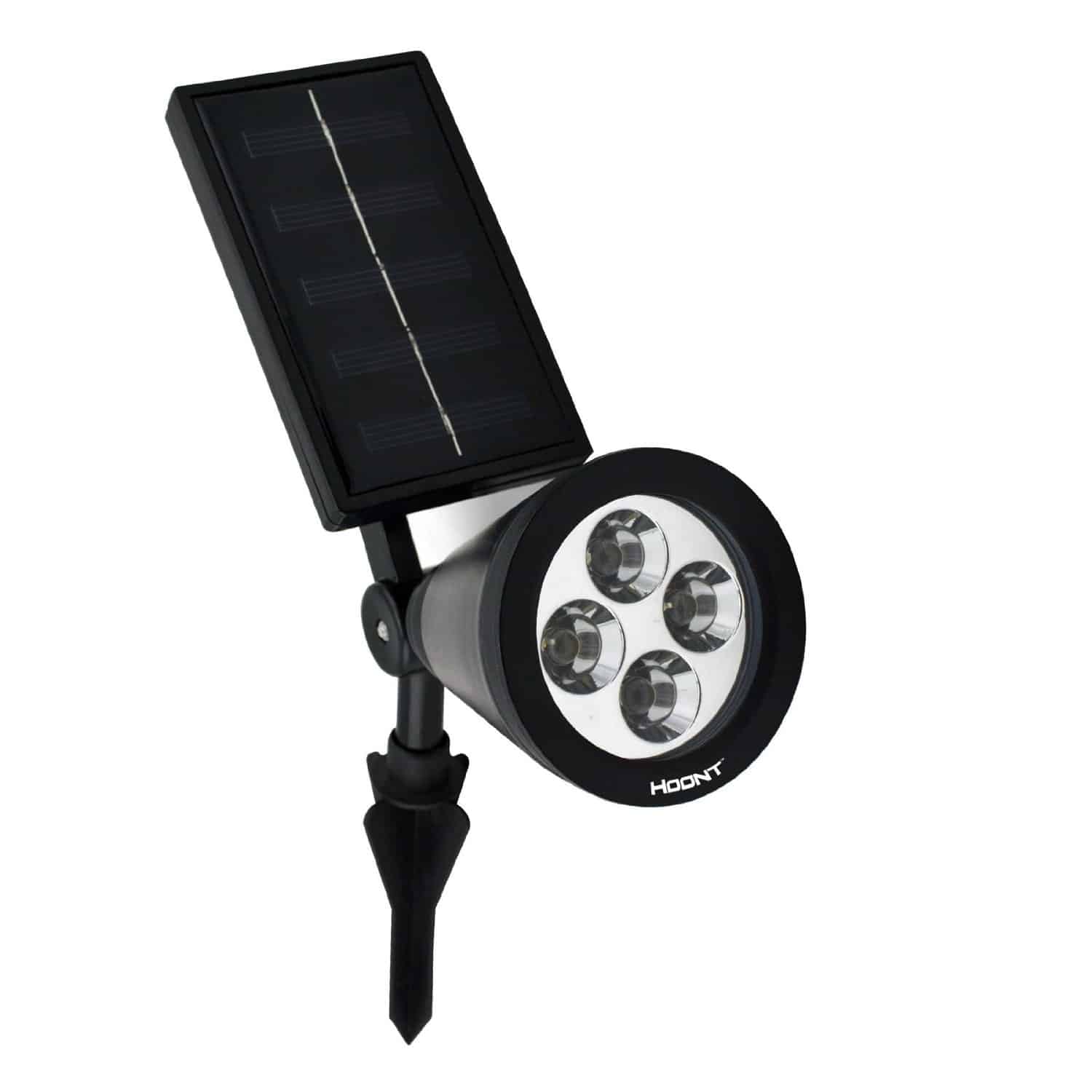 These are probably my favourite solar garden lights. They're well-made, weather resistant and they look great. Especially for small-space container gardens, where every addition matters, they'll add a futuristic feel to your collection of pots.
The LED bulbs, which last for 50,000 hours, are charged with a solar panel that rests on the top. They automatically come on at night. There are three settings – off, low and high – so you can achieve your desired ambience. As mentioned, it's fully waterproof. The battery is also replaceable, so if it wears out you don't need to buy a completely new model.
3. [amazon text=Westinghouse Stake Light&localise=1&search_link=0&multi_cc=0&live=0&asin[us]=B00GGZK6Z2&asin[uk]=B0097655K8]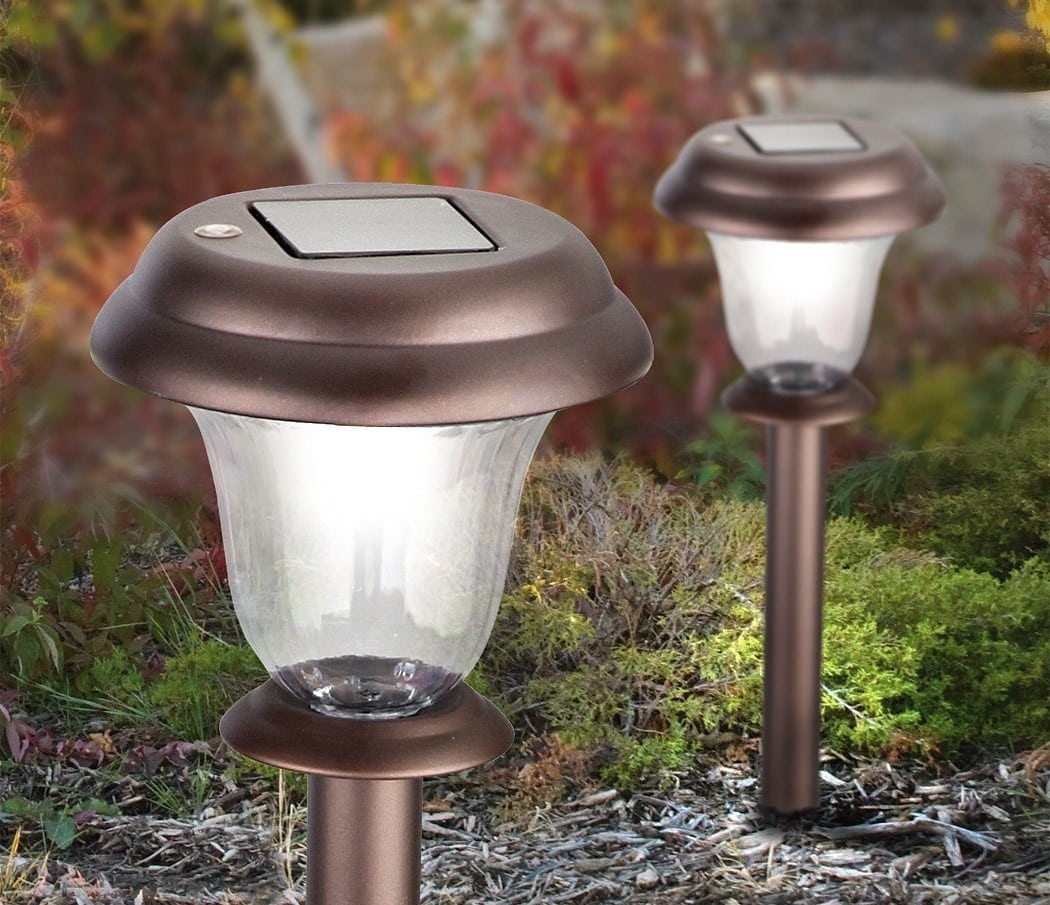 The issue with "stake" (or "post") lights is that most of them are cheap, flimsy models that usually break after about six months. So, although they look good it can be quite hard to find good ones.
Fortunately, Westinghouse manage to hit the mark with their 6-pack of solar stake lights. The stainless steel coating is durable in all weather and the LED lights themselves are of a superb quality.
4. [amazon text=Bamboo Solar Lights&localise=1&search_link=0&multi_cc=0&live=0&asin[us]=B0081EP00C&asin[uk]=B00EF6092Y]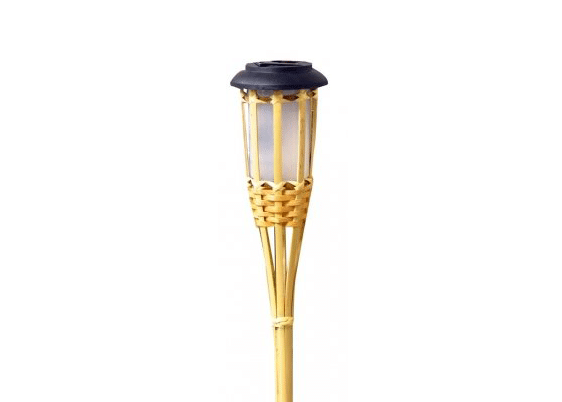 Though these might not perform as well as some of their counterparts they do look the part. They're based on a traditional oil-burning design and you can set a few climbing plants up against them if they're in pots. Good as a relatively inexpensive, medium-term option. They're amongst the cheaper solar garden lights all in all but still perform well.
5. [amazon text=The Cheap Option: Show Lights&localise=1&search_link=0&multi_cc=0&live=0&asi
n[us]=B00L0IQEMY&asin[uk]=B00I21VMCO]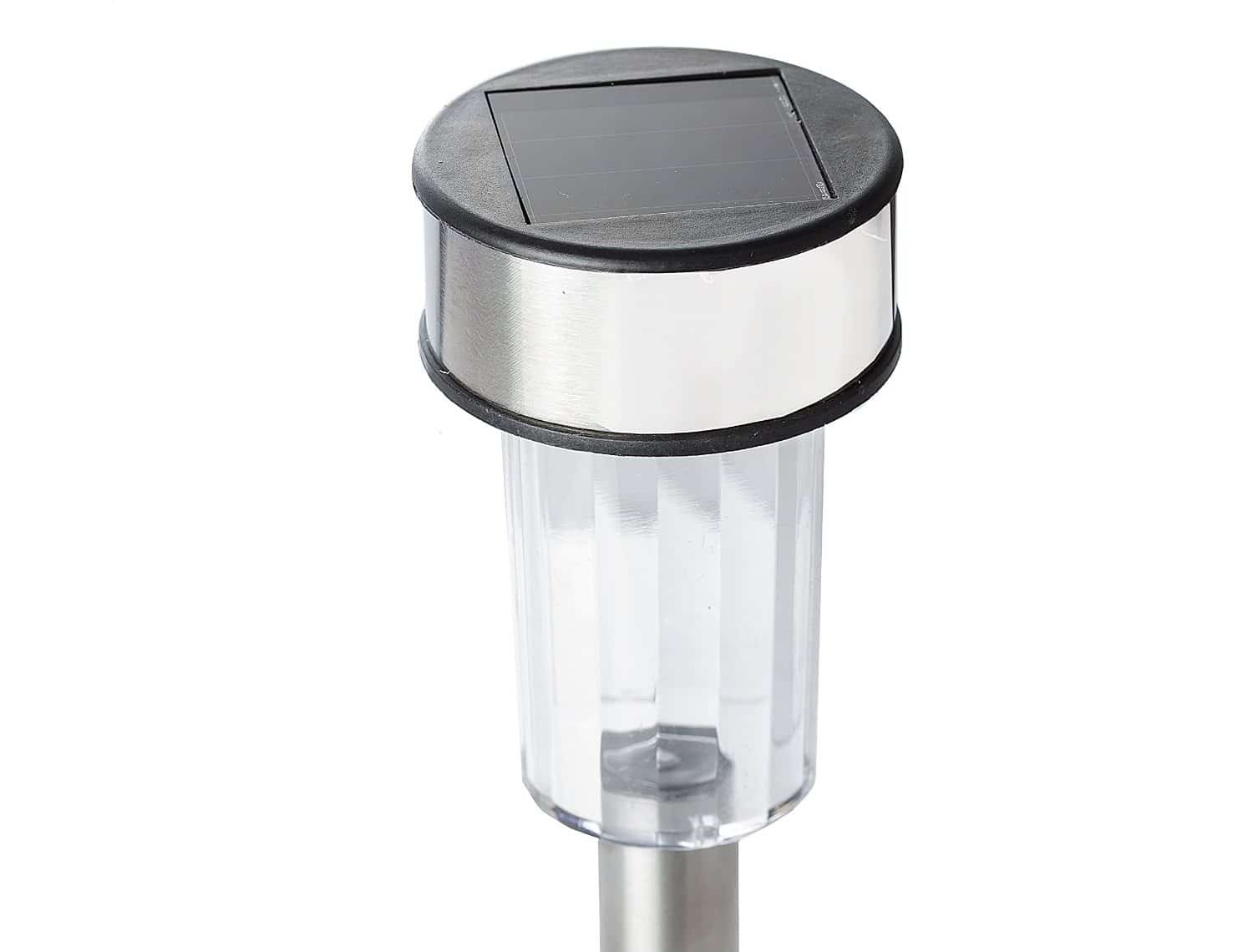 I remember my grandfather bought a load of these for his allotment. They rusted and cracked about six months in. There's nothing wrong with them, just be sure that you only want short-term lighting. They're far from the best solar lights for a garden, but they do the job.
What About Your Thoughts?
So that's our selection of the best solar powered garden lights! Have we missed a great selection? Get in touch and let us know.