Last updated: November 2019.
So you're ready to clean your deck?
Once you know which formula to use, cleaning decking is relatively easy. There are, however, a few common pitfalls.
In this article, I take a look at some of the best deck cleaners on the market. I also spend a little time exploring the difference between deck cleaner and two often-confused products: deck stripper and deck brightener.
Hopefully, by the end, you'll know exactly which product is ideal for you and your beautiful deck. Let's dive in!
Best Deck Cleaner: Quick Guide
Click here to jump to our in-depth reviews of the best deck cleaners.
What Is Deck Cleaner?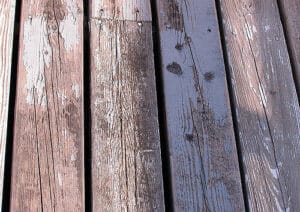 Deck cleaner is most commonly used for either cleaning or prepping.
In the case of cleaning, solution is used to thoroughly remove dirt while leaving varnish and stain intact.
For prepping, cleaner is applied to prepare outdoor wood for an application stain, varnish, or sealer .
Applied directly or through a sprayer, cleaner removes unwanted dirt and blemishes from the surface of decking (or other wooden furniture). This "dirt" includes algae, lichen, fine moss, oxidation patches, and weathered stain.
Wood that has been cleaned might then be sanded to remove lingering patches of stain before being treated (although if there is a lot of stain then a stripper may be needed).
Some deck cleaners are unsuitable for straight-up cleaning without restaining. Decking with stain that is intact may suffer from the application of corrosive cleaner. Many well-known products, including Woodrich, are caustic enough to remove small patches of stain. Others are mild and will not harm existing paint or stain.
Deck Cleaner vs Stripper
There's a touch of confusion around the "cleaner vs stripper" question.
Here's what you need to know:
The purpose of stripping deck is to remove past applications of stain or varnish. Without stripping, you can easily end up with patches of old stain discolouring a newly-painted deck (along with an uneven surface).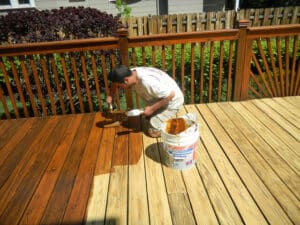 Stripping (usually along with sanding) is only necessary if you want to get rid of large amounts of solid stain. If prior to staining you're just cleaning wood that's dirty, with most of the stain already weathered and worn down, then there's no need for stripper. Similarly, if you're not planning on staining after use, then most types of cleaner are perfectly suitable.
It's important to pay attention to the strength of deck cleaning products. Mild products won't remove anything but dirt (leaving stain and varnish as it is) whereas high-strength cleaners will be more caustic.
If you do want to stain, and need to thoroughly remove stains and debris, opt for a high-strength cleaner. If you want to get rid of a lot of varnish or stain, you'll need a stripper. The key is in making sure you check the label properly.
Now, you might be asking: if stripper does everything cleaner does, why not just go for stripper? Stripper, as shown in the diagram above, is more caustic than cleaner. For this reason, it's less environmentally safe and more prone to damaging wood. If it's not needed, opt for cleaner.
What About Brightener?
To add a further layer of confusion, you can also apply "deck brightener" to decking after cleaner or stripper has been used. Brightener restores the pH of wood to neutral. Keeping wood at a low or high pH can detrimentally affect it.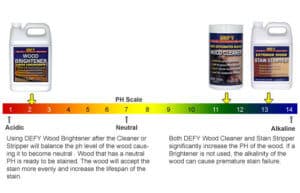 The high alkaline level of cleaners (and strippers) will often increase the pH of decking, which can change its structure in the long-term, making it more prone to warping and rot.
Deck cleaner comes in an array of concentrations and will need to be diluted prior to application. All products will use bleach of some kind.
Let's take a look at some key features you should ensure are included in deck cleaner before buying.
Features to Look for When Selecting Deck Cleaner
Here are the main features to look for when selecting a deck cleaner:
Oxygen bleach: Oxygen, or "oxygenated", deck cleaners, have grown in popularity over the last several years. They contain the chemical Sodium Percarbonate, in contrast to the main ingredient in traditional bleach products, Sodium Hypochlorite. These cleaners are much more environmentally-friendly than alternatives.
Biodegradable: Because decking is often close to lawns and plant-beds, you want to avoid washing off any lingering chemicals into the environment. This is particularly the case if you're going to be cleaning/staining your decking on a regular basis. Most products are biodegradable now, so it's not a huge worry, but it's worth checking nonetheless.
Granular or liquid: If storage space is a concern, opt for a granular or powder product. The powder is added to water before use.
The Best Deck Cleaners: Top Picks for 2019
***Full Disclosure – Where appropriate, I've linked product images to commercial sites and Amazon (see Amazon Disclosure). If you buy from these sites, I earn a small affiliate fee, which helps me keep Urban Turnip going.***
1. Star brite Non-Skid Deck Cleaner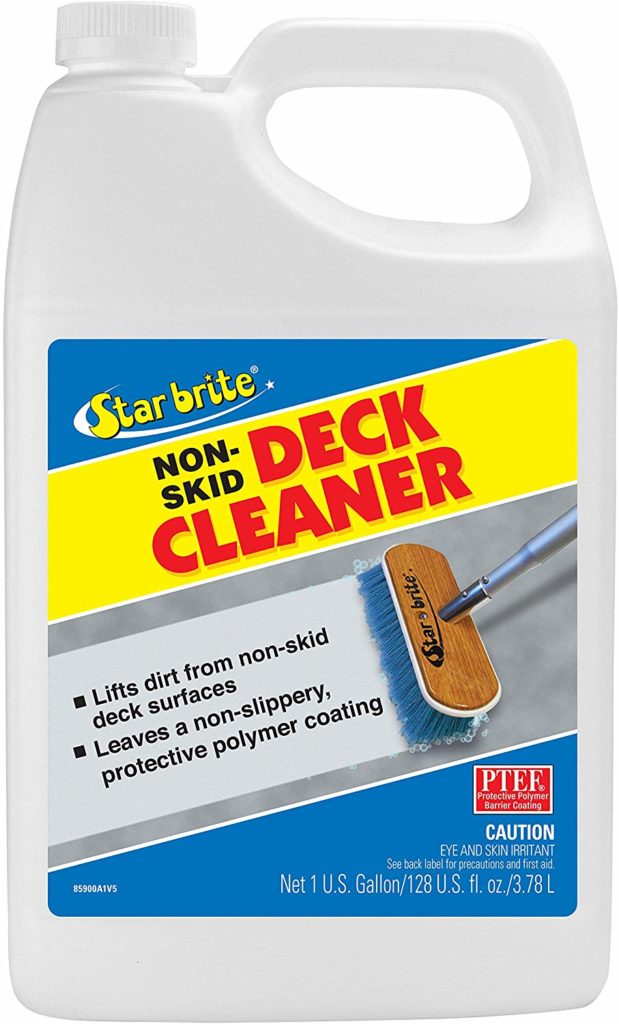 Star brite is a very popular "mild" deck cleaner for composite and painted decks. Because it's not strong enough to take off any stain or varnish, it's ideal as a general cleaner (if you want to clean your deck without re-staining it afterwards).
Just dilute the concentrate, scrub in the mix and leave it to rest for a few minutes, then wash off.
The formula is specifically designed to work without heavy scrubbing and will leave a protective polymer coating on the deck after use. Star brite deck cleaner comes in three sizes. The medium 32 oz. bottle is enough to cover a normal-sized deck.
2. Restore-A-Deck Wood Cleaner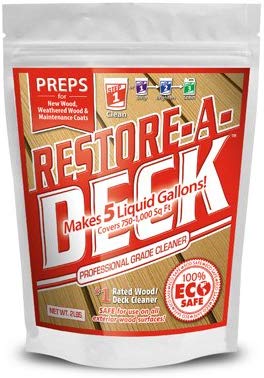 Restore-A-Deck makes a range of products for deck maintenance and care. This cleaner is formulated to prepare wooden decking prior to staining, and as a general cleaner for composite decking.
It's not an overly caustic cleaner, so there's no need to apply a brightener afterwards. That said, it will thoroughly remove debris, mould, and stains.
It's relatively inexpensive, environmentally friendly, and you get a lot of bang for your buck. The powder makes five gallons of cleaner, which will cover roughly 1000 sq. feet.
3. Woodrich Wood Cleaner & Wood Brightener Kit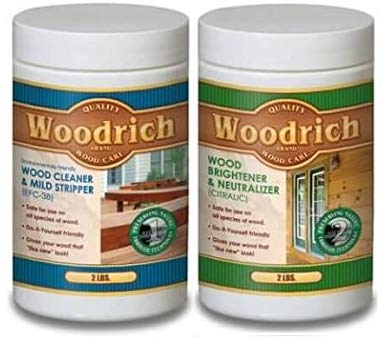 This kit from Woodrich is labelled as a "cleaner and mild stripper" and is ideal for those looking for a stronger formula that will deal with light varnish and oil stains. Along with the cleaner, a brightening mix is also included to restore the pH of the wood.
Both the cleaner and brightener come in powder form and are good for an area of up to 750 sq. feet. If you're looking for a higher-intensity product, you'll find Woodrich hard to beat when it comes to quality and price.
4. Simple Green Deck and Fence Cleaner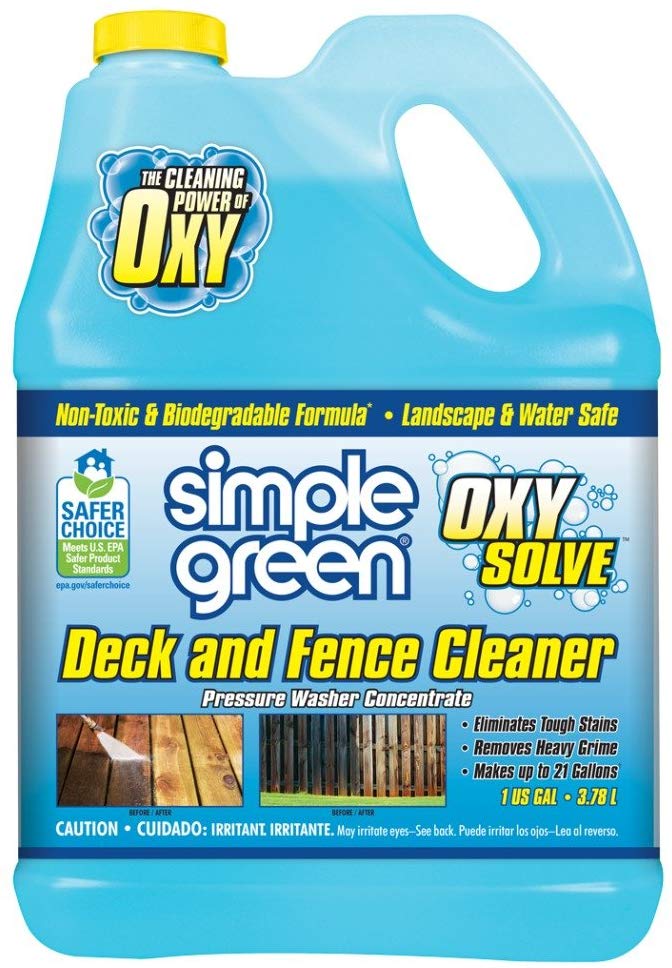 This "deck and fence cleaner" from Simple Green is the most environmentally friendly option on the list.
It's a concentrate for use with a pressure washer (but can also be applied manually with a brush) and will cover 6,400 sq. feet. You won't find a product with a similar price tag that will cover that kind of area.
The main ingredient is peroxide, which is a very effective cleaner. Simply spray on the mix, let it sit for a few minutes, then rinse it off.
It's suitable for all kinds of deck surfaces, and for pre-stain prep on wood.
5. Home Armor House Wash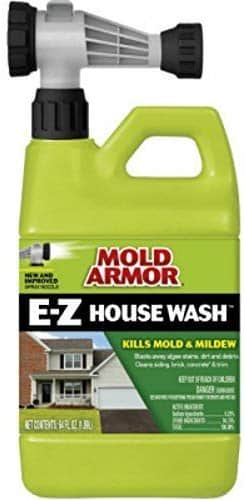 Home Armor House Wash is gentle enough to be used on vinyl, composite, and painted surfaces, along with decking, particularly at a low dilution.
There's no need for scrubbing as the container comes with a spray outlet that attaches to a hose (making it very easy to use).
This two-pack will cover an area of 2000 sq. feet. The running water from the hose automatically dilutes the solution. House Wash is an excellent all-round cleaner, especially for decks that don't require deep cleaning.
Let us know your thoughts!
What are your thoughts? Have you sampled any of the products on this list? Write a comment below and let me know!
References and More Resources
When to use stain stripper:
How to clean your deck:
Image references: Deck John Blower; Deck by Hoodsie DeQuincey; Deck Refinishing by Olger Fallas;