Note: The majority of the thermometers here are available on Amazon, though UK and US buyers have different options. I've indicated to which residents the particular models are available. 
On a basic level, and at the risk of winning the "bleeding obvious" award, an indoor/outdoor thermometer is able to read the temperature both inside your home or greenhouse and in the garden. But that isn't all that these nifty little devices can do. Good models will also be able to measure humidity (the function of a hygrometer), record maximum and minimum day temperatures and, in some cases, actually display a weather forecast as a result of their in-built barometer. You can probably find pieces with a clock as well if that's what you're after…though the built-in radio doesn't yet seem to be on offer.
So the purpose of these types of thermometers is more than just providing the temperature. The other benefit over cheaper outdoor types (though these are perfectly good if you're looking for an inexpensive option) is that they're invariably more accurate, and so can give you a better idea of the temperature changes throughout the days, weeks and seasons.
We've selected five of the best indoor-outdoor thermometers that are available to buy, across a variety of price-points. We've also tailored the guide and rankings for those who will be using them specifically for gardening purposes.
The Top Six Indoor Outdoor Thermometers
There are two types of thermometer. The more advanced models will include a separate outdoor sensor that communicates wirelessly with the display. These may or may not have a display of the temperature themselves. The other type has a small sensor attached by a long wire to the central unit. This sensor must be left outside in order for it to gauge the temperature.
The main benefit of those with an attached wire is that they're portable. You can move it about to check for temperature variance in different parts of the garden or patio. The obvious drawback is that the wire has to be dangled out of a window. If money isn't an issue, my advice is to buy a model that uses an outdoor sensor.
(UK) ClimeMET CM7048 – £22.99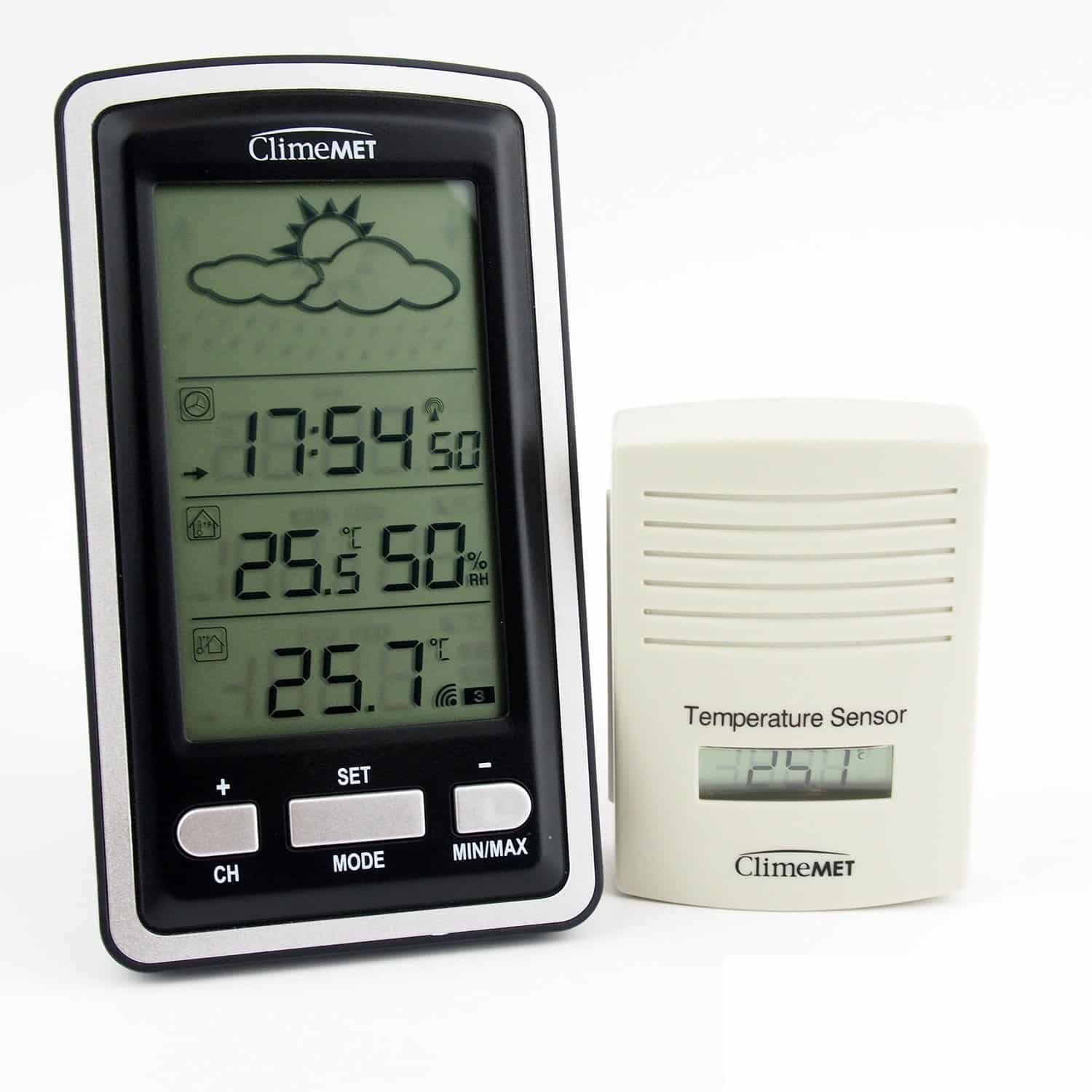 Able to record temperatures from three separate locations (including the location of the central unit), the ClimeMET, alongside being one of the most reviewed thermometers on Amazon, also makes it to the top of our list. It has a radio controlled clock and date display, minimum/maximum temperature display and, uniquely, a weather forecast function. It runs off four batteries (two AA and two AAA).
The one conspicuously absent feature is a humidity reading on all but the indoor sensor(they do make a slightly higher-priced model that offers this functionality). That said, the overall quality and feature-richness of this little piece of kit is the best that we have come across. If you're looking for something that's accurate, weather-resistant, durable, and comes with customer service that's second to none, then this has to be your chouce. It also has a backlight and is fully waterproof.
(US) AcuRite 75077 – $35.38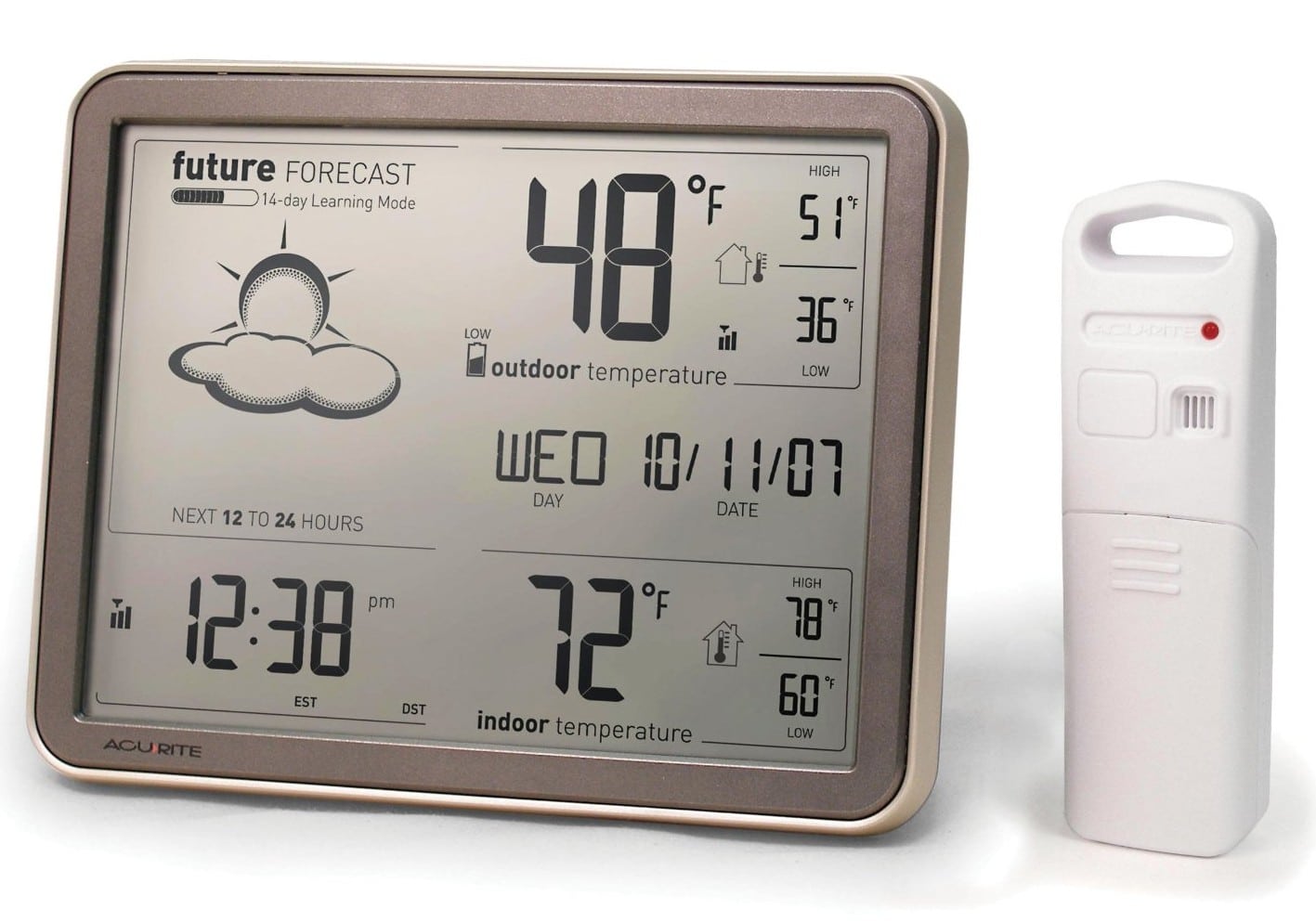 A feature-rich and well-designed model, the Acurite "Wireless Weather Forecaster" is a good, inexpensive indoor/outdoor thermometer. Though there isn't a humidity reading, there is an excellent icon-based weather forecast display, a minimum/maximum temperature readings for both indoors and outdoors, and a radio-controlled clock. The "big" display is also particularly easy to read (no need to get up out of your armchair to go and check).
(UK & US) TFA Moxx – £10.00/$22.66
[easyazon_image align="none" height="2560″ identifier="B0095GDNLS" locale="US" src="https://www.urbanturnip.org/wp-content/uploads/2017/01/91YunCBvpFL.jpg" tag="urbanturnip-20″ width="564″]
We particularly liked the design of the TFA Moxx, which is why it's made the list. It's a basic but very high quality piece of kit (the Germans do have a penchant for making quality products) that will look snazzy in whatever kind of space it's occupying. It's only functionality is to display the indoor and outdoor temperature, for which it has a waterproof sensor.
(US) AcuRite 02027 Colour Weather Station- $54.99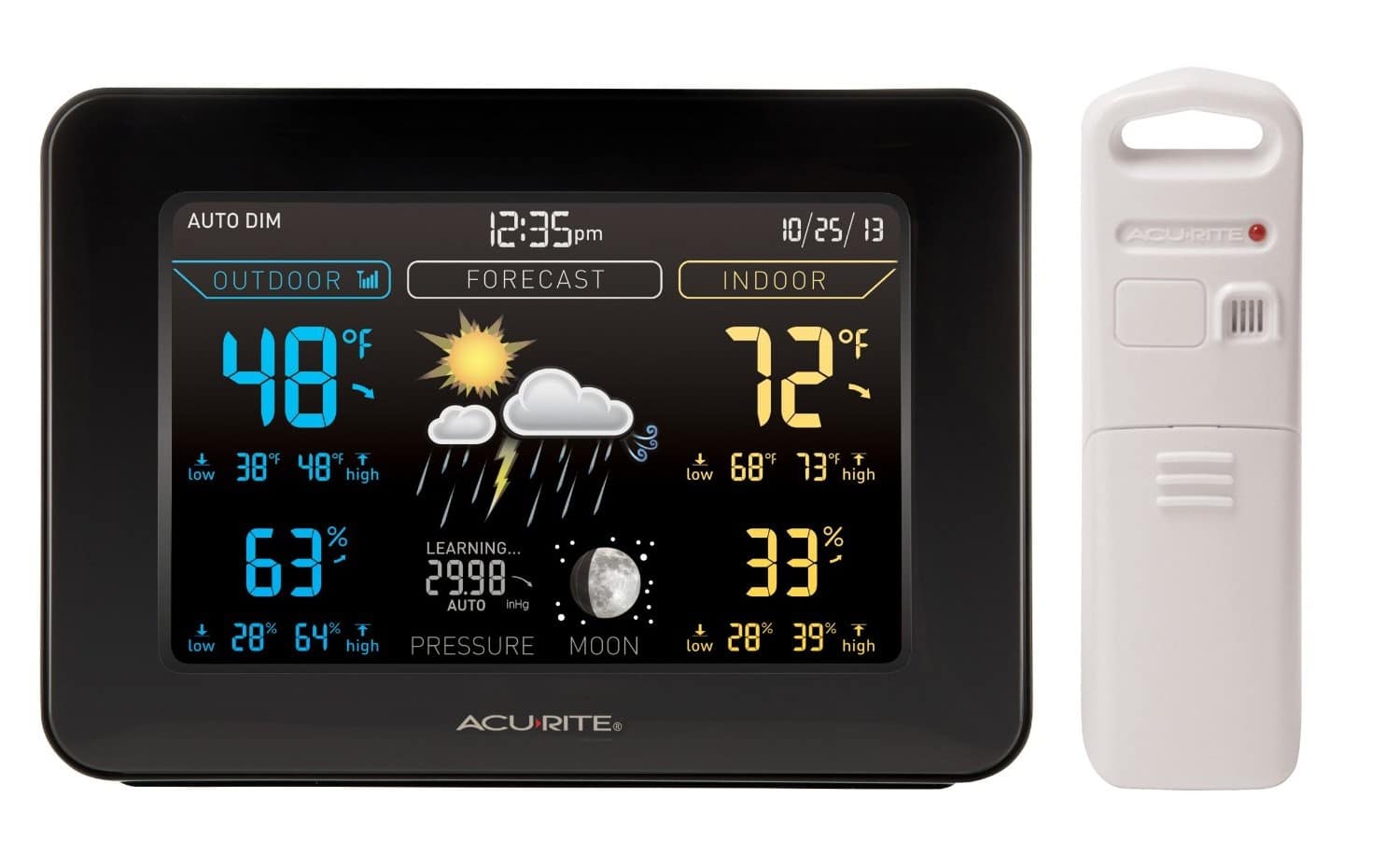 The Acurite colour weather station is as feature-rich as it is beautiful. I have a small hydro system on my kitchen worktop and I love the sci-fi feel of it…this thermometer – with its indoor and outdoor temperature readings (each with their  minimum and maximum levels), time, date, weather forecast, humidity (again, with a high and low reading for both indoors and outdoors), moon phases, and pressure reading – is the perfect high-tech addition to any gardener's home. The one drawback is that the outdoor sensor doesn't have its own display.
(UK) Irox Weather Station – £40.75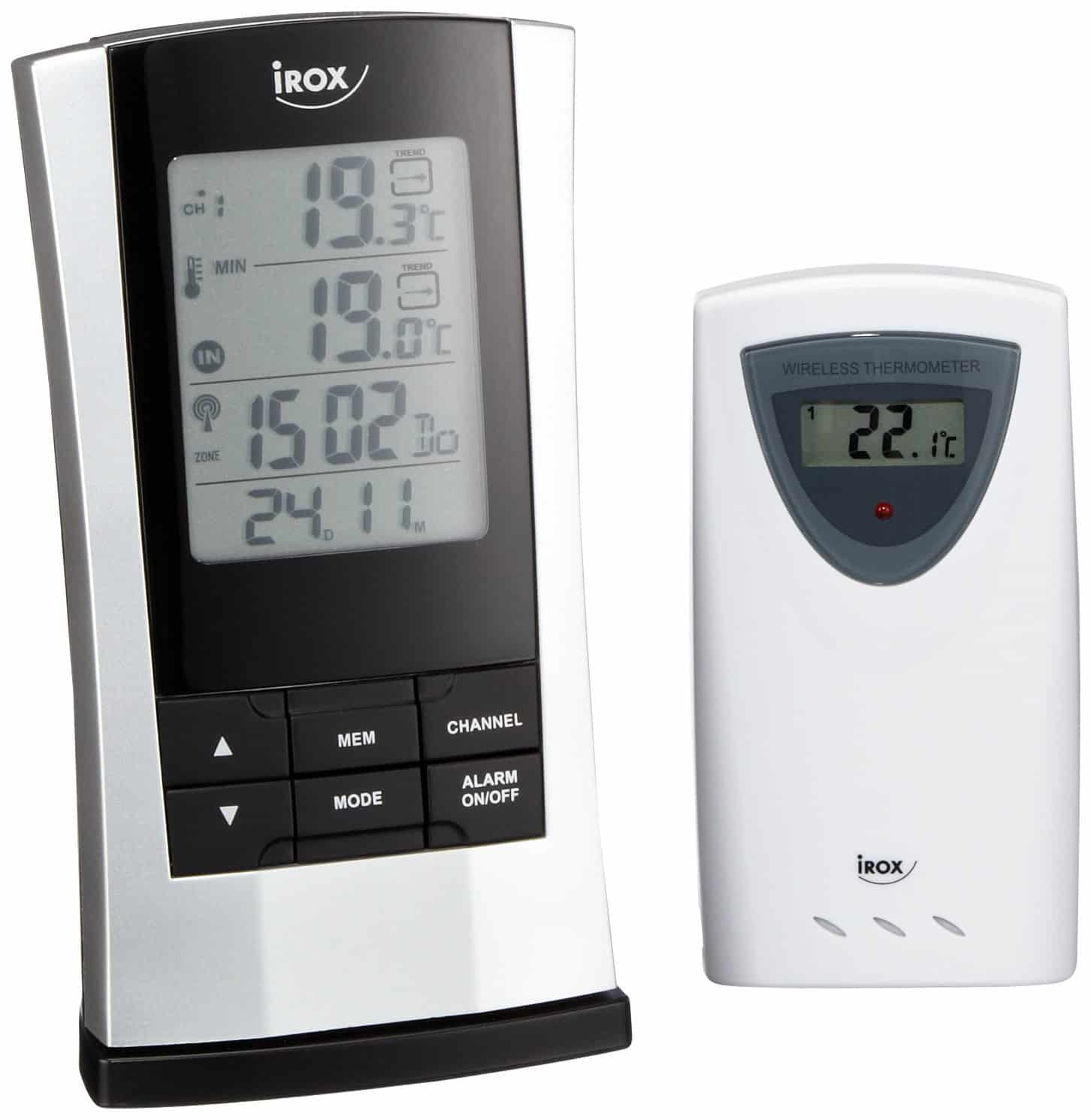 The Irox is my thermometer of choice. I've had it outside in every type of weather condition and it's held up perfectly. The outdoor sensor also has its own temperature display. This means that I don't have to go inside the greenhouse every time I want to check the temperature. It's seems such a simple thing but it really does make a difference. The clock also has an alarm and snooze feature – so if you want to check the temperature as soon as you wake up every morning…well, this is your thermometer. Minimum/maximum temperature but no humidity readings.
(UK) ClimeMet CM9088 – £35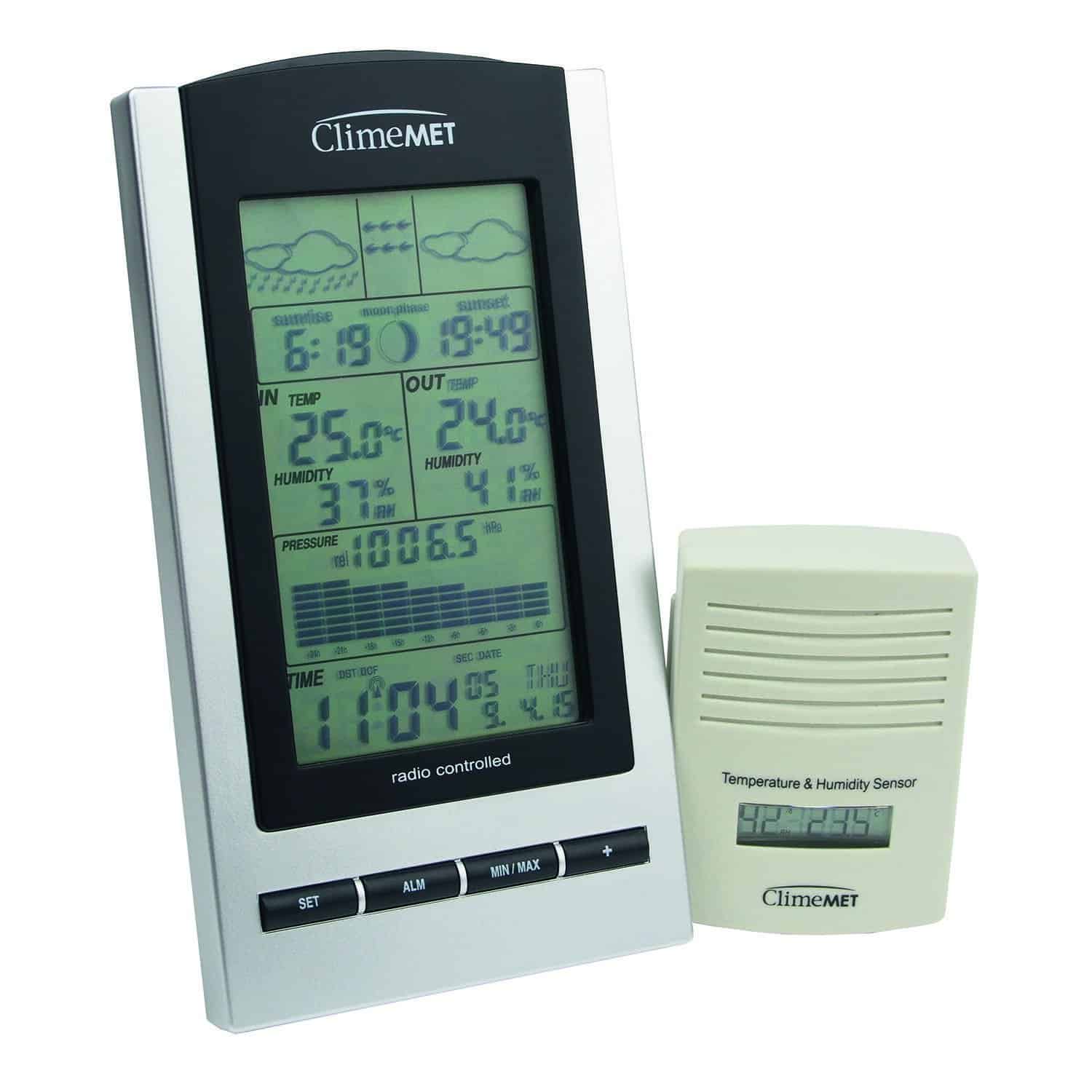 For £35 this is an absolute steal. If you're looking for more features than the first ClimeMet on this list, including sunrise and sunset times, moon phases and weather forecasts based on barometric pressure, individual humidity readings, and pressure readings, then do consider the ClimeMet. The only drawback is that it can only receive one outdoor sensor. That, however, does have a humidity reading.
What are your thoughts?
Get in touch at dan[at]urbanturnip.org and let me know if you've got any of your own favourites!