(Updated for 2017)
Soilless growing has a lot to recommend it, especially to urban gardeners. Hydroponic systems can take advantage of light-poor and unused spaces in the house or flat, provide a maintainable option to those with little time to care for their plants, and, crucially, allow for year-round growing. Even if you have a thriving "natural" garden, outside or in your south-facing rooms, a hydroponics system can make a handsome, not to mention intriguing, accompaniment.
The emphasis here is on smaller hydroponics set-ups that utilize space efficiently, essentially those that are well-suited to smaller urban dwellings. That said, the systems listed here are amongst the best in the world regardless of your growing situation, so are worthy of consideration even if you're not seeking to maximise space.
If you're looking specifically for a big system, i.e. for growing lots of big plants (tomatoes obviously…), then we recommend the "PowerGrower" 8-Pack kit from General Hydroponics. It's a drip system that's very space-efficient for its size. Individual modules can easily be bought and added to the system, so it's also very flexible in terms of its capacity and size.
Our Top 5 Selection: Best Hydroponic Systems
A quick note about getting these systems in Europe/US/Canada. All listed here are available in the US. The first two are available readily from Amazon in the UK. If you live somewhere that Amazon doesn't ship to, it's always worth checking eBay or the manufacturer's site. Mr. Stacky, for example, will ship all over the world for products bought via their site. Anyhow, enjoy our "best hydroponic system" picks.
1. 
AeroGarden Ultra LED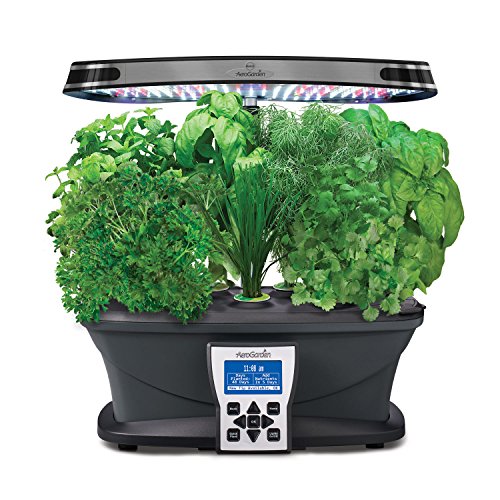 AeroGarden, a company that's owned by Miracle-Gro (the guys famous for their fertilisers and compost), make a range of kitchen-top hydroponic systems that are fully self-contained.
You don't need to buy any "hardware" outside of what arrives in the box. So there's no need to worry about a growing medium, light-bulbs or even a nutrient solution (though you will need to stock up once you've used the one that comes with the product).
Though it's got a great sci-fi feel to it, and will look wonderful on your kitchen worktop, it is a basic system. It's best designed for those who want to pop in the "grow pods", choose the appropriate setting, then forget all about it. You can grow any smaller plant (no root vegetables) for its leaves or fruit. The LED lights are energy-efficient and easily replaceable, the water reservoir stands at a not-insignificant 1.2 gallons, and the trellis is height-adjustable.
You can also use the control panel to control some of the nuances of the AeroGarden Ultra to, including light and pump action, and nutrient reminders. It is essentially a deep water culture system, where the pods are suspended above a nutrient reservoir, with their routes touching the surface of the water. All you need to worry about is topping up the nutrients in the reservoir, and there's full instructions of how to do so.
2.  General Hydroponics EcoGrower

General Hydroponics is another well-respected company that was founded in the 70s by Lawrence Brooke, and that is currently head-quartered in Sonoma Valley, California. They have an extensive testing facility and seem to take their system development very seriously.
The EcoGrower is a great choice for the "serious" gardener that wants a more versatile system, with the ability to grow several bigger plants, whilst also maximising on space. Because of its space-efficiency, it's the perfect choice for avid urban gardeners.
It's a drip system that utilizes clay pebbles (included in the product), a 17 gallon reservoir, six 6in. deep net pots, and a pump and drip line mechanism that couldn't be easier to set up. There's also a "CocoTek" (compressed coconut coir) "cap" that can be placed on top of the pots to keep light out and limit algae growth). Access to the nutrient solution is through one of the pot holes (you just lift one out) and the recommendation is to change the water every two weeks. You likely won't be surprised that General Hydroponics regard their own brand of nutrient mixes as ideal for plants growing in this system…can't imagine why.
Another point worth mentioning: if you look at the design of this product, you'll see it has a hexagonal shape. This can be especially useful for those with limited space as they can be closely compacted (in comparison with a circular system) next to each other. Like I say, this is my favourite system, the one I use, and the one I recommend for most growers, especially those in the city.
3. Mr. Stacky Hydroponics Tower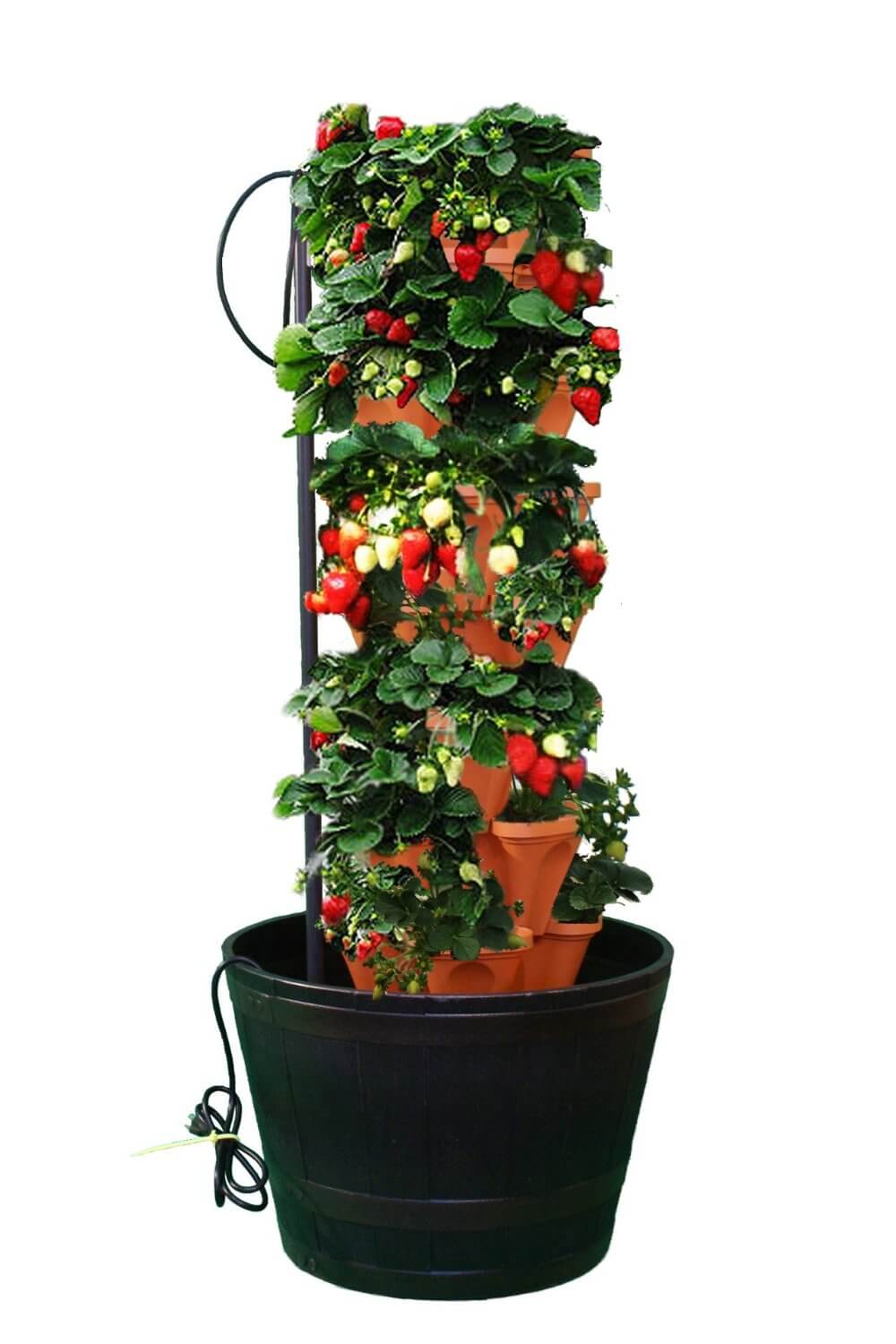 Mr. Stacky is another well-known company (you can probably tell that I like branded products as opposed to generic ones that have probably emerged from an unknown factory somewhere in Taiwan) that makes vertical gardening containers with quirky designs. Their hydroponics system is essentially their basic stacking model, which can by used outdoors with soil, plugged into a drip system, which works on a level-by-level basis.
One of the main positives of the Mr. Stacky Tower is how easy it is to set up and maintain. It's almost a plug-and-play set-up. You'll need to buy a growing medium, nutrients, and seeds, but that's all. The Youtube video below shows just how easy it is to set up. The pump is also very quiet. Although a tad on the pricier side I still think it stands up as one of the best out-of-the-box options available to buy.
It's also well worth considering some of their very well-priced standalone towers for indoor or outdoor use. Each layer (including the hydro system) can house four plants and, theoretically, can be built up indefinitely.
4. PowerGrow Deep Water Culture Bucket

The PowerGrow BWC Bucket is included here because of its good quality/price balance. It's a relatively inexpensive system, but is perfect for those wanting to grow bigger plants. It can also be easily expanded for those looking for a bigger, multi-module set-up. You will need to buy a larger pump however.
It has a 10in. diameter, so is suitable for anything from tomatoes to canna…ahem…blueberry bushes. Included is an air stone, air pump, and rock growing medium. It also comes with a 1-year warranty.
For the price, you're genuinely not going to get better than this. All of the pieces are of a high quality and getting it ready is an absolute doddle. If you want to start out small but have the possibility of increasing the size of your operation with more modules, then go with PowerGrow.
5. General Hydroponics PowerGrower 8-Pack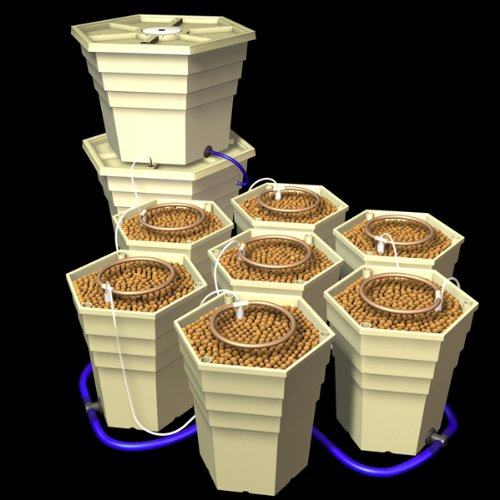 For those looking for a more extensive system for growing bigger plants, the Power-Grower 8-Pack, with eight 15in. by 15in. pots, may be your option. You can add an extra four modules on (I was advised by their customer support that 15 is really the upper limit) if you want to extend further still. Because of the hexagonal design they also fit into a smaller basement or attic space easily. It is, like the individual module at number two, a deep water culture system with a pump drip action.
The kit itself is comprised of a 3-gallon growing chamber, a dual-diaphragm air pump, and, as mentioned, the 8 individual modules. There's no clay pebbles included so you will have to get them yourself. The controller for the system is able to manage both pH and PPM (concentration of minerals), which is a nice advanced feature.
Want To Go Even Bigger? 48 Pots In A Single System?
If you're after a really big system then consider the Multi Flow 12-Site from PowerGrow. It's an ebb-and-flow system with a 3.5 gallon tank and the biggest pump that I've ever seen. You can buy more modules, adding up to 48 if you want to. Only for the semi-industrial buyer…