A quick note: The emphasis here is on natural products. We hate chemicals just as much as you do. Jump to the reviews by clicking here. 
Generally speaking, there's no need for weed killers in urban spaces. If you're growing in containers, time spent weeding will be minimal. Even those lucky enough to have a small plot will find it hard to justify using commercial weed killer as a substitute to a little hoeing.
Whilst this article is absolutely applicable to those gardeners looking after a larger garden (in which case the above paragraph doesn't really apply), the benefit of store-bought products to city dwellers is in their ability to clear an overgrown space. Sometimes, the simplest method can be to spray a new area with an organic weed-killer and let that do the work of destroying deep-rooted and invasive weeds.
There's More Than One Way…
There are plenty of ways to get rid of weeds and the best method for you will depend on where the weeds are growing, how much time and effort you want to expend on weed control and whether you have children and pets who might wander into a chemically treated area.
Organic weed killers are among the safest products because they are usually made with natural ingredients or ingredients that are not harmful to humans and mammals. If you want weeds gone but don't want to turn to hand-pulling or toxic substances, organic weed killers are your best bet.  Today's formulations can work just as quickly as their dangerous counterparts, but they're much safer for you and the environment.
When you start searching for a weed killer, you'll notice that there is a wide range of formulations on the market. Some of the most popular include:
Non-selective – this type of weed killer will eliminate any plant it comes in contact with. They must be used carefully to minimize damage to neighboring plants and grass.
Selective – these weed killers are created to target particular weeds. When used, they are mostly non-harmful to nearby plants. As selective herbicides are specifically engineered to pick and choose which plants they will kill, no organic formulations of this type of product exist.
Liquid – most herbicides are available in liquid formulations. For personal use, they are applied using a bottle with a trigger nozzle or a specially-designed lawn and garden sprayer.
Granular – granular herbicides are typically spread by hand (while wearing gloves) or with a handheld or walk-behind spreader. This type of weed killer starts to act as soon as it's been moistened, either by a water hose or rainwater. The chemical seeps into the ground and destroys weeds through the root system.
Now that you know more about the choices available to you, read on to learn about the best weed killers in 2016.
Top 5 Weed Killers
1. [amazon text=Avenger Organic Weed Killer&localise=1&search_link=0&multi_cc=0&live=0&asin=B00COWXTTG]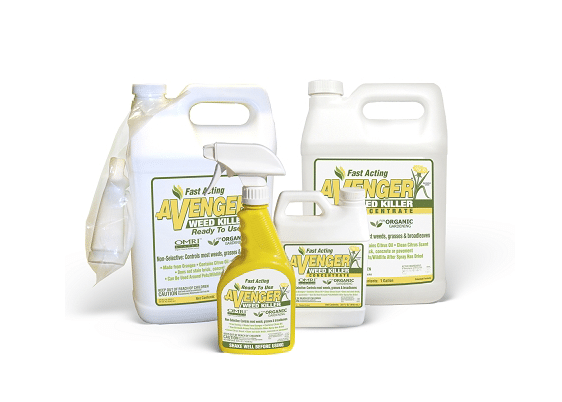 Avenger is a liquid herbicide that is available in both concentrated and ready-to-use formulas. Highly rated, it's a non-selective herbicide that destroys bothersome growth without harming the environment. After using it, you'll notice visible results in as little as two hours. Completely non-staining, it's an ideal solution for weeds that make an appearance on driveways, sidewalks and rock beds and because it is made using oranges and other citrus fruits, it has a pleasant smell. It's also non-toxic, so you don't have to worry about harming pets and people who might be in the area.
2. [amazon text=BioSafe Weed Control&localise=1&search_link=0&multi_cc=0&live=0&asin=B0057RK9Y8]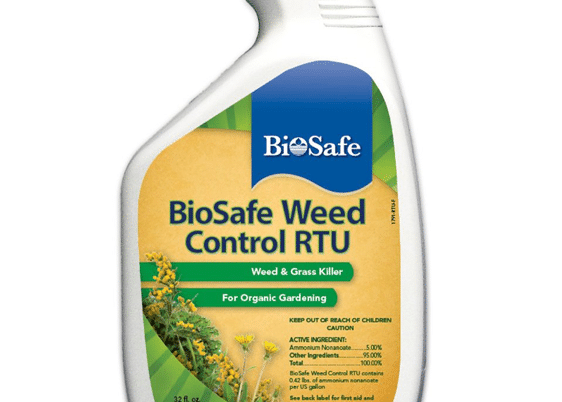 BioSafe is another great liquid formulation that is effective on all kinds of weeds. This non-selective herbicide works through what's called the burn-down method, meaning that it immediately attacks a weed's leaves and stem for near-instant annihilation. Customers rave about how it reduces weeds like dandelions and crabgrass to shriveled masses in just hours. Another great benefit of this weed killer is that it's biodegradable and will not migrate (this means that you can safely install new seeds and plants in a treated area once all the weeds are gone). Like most organic herbicides, BioSafe is not dangerous to use around pets and people.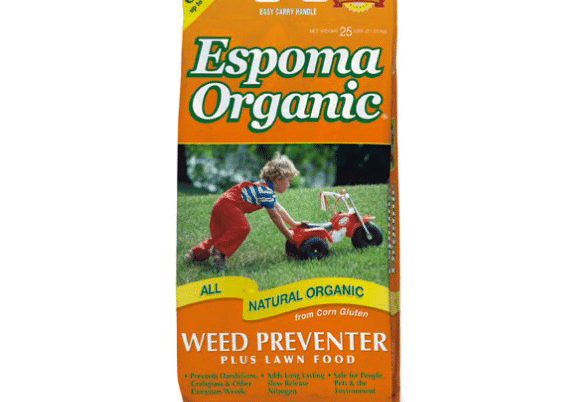 Espoma is a little different from the weed killers that you're used to. In addition to being a solid, granular product instead of a liquid, it is also marketed as a weed preventer rather than killer. Used twice a year, this product not only provides your lawn with nutrients for greener, lusher growth, it also inhibits weeds from growing in the first place. This pure, corn-gluten formulation is a natural solution to bothersome weeds like dandelions and crabgrass. Plus, it's completely non-harmful, so kids and pets can play on the grass immediately after application.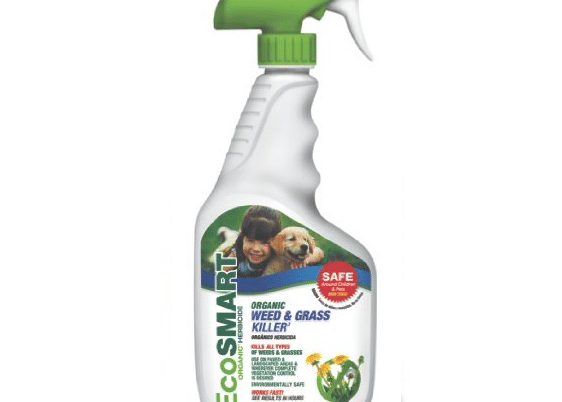 EcoSMART is one of the best weed killers available for those with children and pets. Its natural ingredients allow for use anywhere where the little people might wander, including driveways, sidewalks and pool decks. It's a non-staining product, so you won't have to worry about ugly discoloration appearing in treated areas.
Like all organic weed killers, it's also a non-selective herbicide, so care must be taken to ensure that only non-desirable plants are treated. As it's a contact weed killer, results can be seen quickly, especially on hot days. The product's ready-to-use packaging allows you to immediately get to work on beautifying your home and garden with no need for mixing and diluting.
5. [amazon text=Roundup Fast Action&localise=1&search_link=0&multi_cc=0&live=0&asin[us]=B000H98TC0&asin[uk]=B00187TTUQ]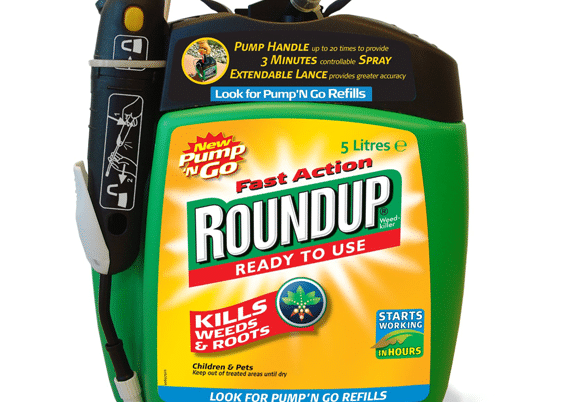 Roundup is not an organic product, but no list of top weed killers would be complete without it. First introduced in 1974, millions of consumers have used it to treat a wide variety of weeds. It's a non-selective herbicide, which means that it will kill anything in its way. Most formulations of Roundup become waterproof within 10 minutes, so make sure that pets and children stay away from recently treated areas until completely dry. You can find this product in both concentrated and ready-to-use containers, as well as in a variety of formulations for weeds ranging from dandelions to poison ivy.
Image credit: Mike Bitzenhofer