Every year, millions of gardeners wage war against an army of leafy intruders. Apparently overnight, they'll appear in flowerbeds, pop out of pots, and lodge themselves into cracks in patios and driveways.
The strategies devised to combat weeds are many and various. Synthetic and organic weed killers, hoes, membranes, and even just good old hot water – it's all been tried. Some work reasonably well, while others are a complete waste of time.
But certain things don't change. When it comes to getting rid of unwanted plants, nothing's more effective than getting down on your hands and knees and pulling the damn things out.
In this article, I'm going look at some of the best manual weeders on the market. I'll also offer a little general buying advice along with tips for choosing from the array of different models available. Let's dig in.
Best Weeders: Quick Guide
Click here to jump to our in-depth reviews of the best hand weeders and weed pullers.
What Is a Weeder?
A weeder is simply a tool for pulling weeds from patios, flowerbeds, and lawns, ideally with their roots intact. There's a range of basic models but most have a sharp head or "blade" which surrounds the crown of the plant. Leverage is then applied to pull it out of the ground.
It's worth pointing out that a hoe is not a weeder. A hoe is used to work the surface of the soil. Used with a pulling action, it will scrape away small surface weeds. Weeders, of all types, are designed to go deeper.
Types of Weeders: Manual Weeders, Pullers, and Gougers
There are many different types of weeders. And even for gardening tools, where there's always variants, weeders are in a category of their own.
Here's a quick rundown:
Scratch weeder – This type of weeder resembles a long, uncurved, two-pronged fork, similar to a carving utensil. The fork is inserted at an angle at the base of the plant and the handle is forced down to push the weed out. You can also find "weed trowels" that work on the same principle.
Dandelion weeder – These are similar in design to forked weeders, but have a curved "stem" to give extra leverage. The head is "dug in" around the crown of the weed and the curved stem provides purchase with which to force it out.
Cobra weeder – Cobra weeders are designed to be used in a kneeling position. They are pushed into the soil behind the weed and then pulled back. This is made possible by the weeder's long, curved handle.
Weed puller – A weed puller is used whilst standing. The "claw" is pushed into the ground and, when leveraged, tightens around the weed, pulling it out in the process.
Sickle – A sickle weeder is similar to a cobra weeder but with a wider head.
Paving weeder – Paving weeders – which are made in an L-shape – are for getting those irksome weeds that lodge themselves in cracks between paving stones. They can also be used like a hoe for surface weeds.
Features to look for in a good weeder
"Traditional" materials – Call me a traditionalist, but I'm of the opinion that old materials – steel, iron, and wood – work best. That isn't to say that plastic tools aren't any good, just make sure they're from a well-established company like Fiskars or DeWitt.
Rust-proof head/blade – Ensure the blade is made with a metal that doesn't rust (like aluminium) or has been coated with either zinc or paint (most will be powder-painted).
Sharp fork – The head will need to penetrate the soil, so the sharper the better.
Best Weeders: Our Top Picks for 2018 
***Full Disclosure – Where appropriate, I've linked product images to commercial sites and Amazon (see Amazon Disclosure). If you buy from these sites, I earn a small affiliate fee, which helps me keep Urban Turnip going.***
1. Grampa's Pull-Up Weeder (USA & UK)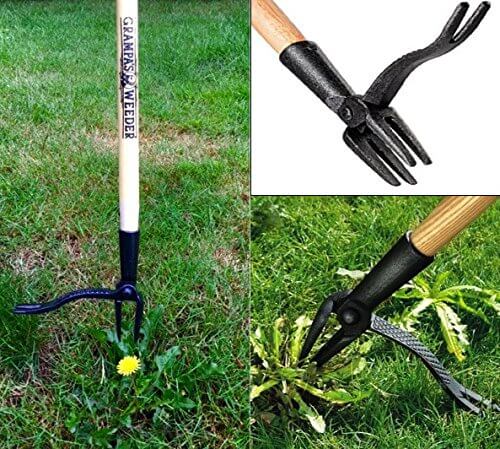 I absolutely love this pull-up weeder. My uncle first introduced me to it – he makes my penchant for collecting gardening tools look amateurish – and I fell in love instantly. If you think I'm being dramatic, then just get one and see.
The tool was invented in 1913 and was very popular with gardeners in Washington until 1941, when production was halted because of the war. In 1999, however, a small team set up Grampa's Gardenware Co. with the intention of making pull-up weeders based on the original design. This product is the fruit of their efforts.
The 45 in. bamboo handle and powder-coated steel"gripper" are very sturdy and long-lasting. The long handle is perfect for those gardeners that don't want to bend down. The claw is closed by pushing down on the foot lever and pulling the handle back, bringing the weed out of the ground.
There's also a lifetime guarantee! If you're planning on buying one of these off Amazon, make sure you go with the actual company's listing (linked to in the image) as they offer the best price.
2. Fiskars "Ergo" Scratch Weeder (USA)
[easyazon_image align="center" height="500″ identifier="B004S0PGN4″ locale="US" localize="n" src="https://www.urbanturnip.org/wp-content/uploads/2017/02/21jG4sZbmpL.jpg" tag="urbanturnip-20″ width="124″]
As I mentioned earlier, there is a little bit of confusion around the difference between "scratch weeders" and "dandelion weeders" (see the selection below). The basic design is essentially the same, only in the latter case the handle is curved.
This basic scratch weeder from Fiskars is a simple and inexpensive model that is ideal for light weeding. If you're only looking after a small area then it's a good choice. The handle, which is very lightweight and comfortable, is made from rubber and the claw is made from aluminium (and so is rust resistant). Don't be put off by the low price – the reason that Fiskars can charge so little is because they produce so many of these things!
3. Cobrahead Weeder (USA)
[easyazon_image align="center" height="500″ identifier="B000JKONAO" locale="US" localize="n" src="https://www.urbanturnip.org/wp-content/uploads/2017/02/31kju0iHHcL.jpg" tag="urbanturnip-20″ width="375″]
This piece from Cobrahead has a lot to recommend it – as far as hand weeders go generally, this type is my favourite. The design allows you to get a lot of leverage and it's possible to pull out deeper-rooting weeds when compared to using scratch weeders like the one above.
The head of this particular product is made from "self-sharpening" steel and has a zinc-coating to protect against rust. The handle, uniquely, is made from recycled plastic and wood fiber (the texture is very interesting). If you're after a long-lasting hand weeder then go for this one. It doesn't look like much from the picture but it's incredibly well-made.
4. Fiskars Weed Puller (USA)
[easyazon_image align="center" height="500″ identifier="B004S0PH1A" locale="US" localize="n" src="https://www.urbanturnip.org/wp-content/uploads/2017/02/21wbcSGy2uL-1.jpg" tag="urbanturnip-20″ width="159″]
[easyazon_link identifier="B0002TTRT4″ locale="UK" tag="urbanturnip-20″ localize="n"]Click here for UK product. [/easyazon_link]
Whilst Grampa's weeder is still my favorite, this weed puller from Fiskars might be better suited to certain people. It's 39 in. tall and (like the first pick on this list) the long handle is ideal for those gardeners that don't want to kneel down.
It's also used in exactly the same way: the claws are pushed into the ground around the weed, they tighten as the handle is pulled towards the user and the weed is removed. The unique characteristic of this product is that it has three claws as opposed to two. I do think a touch of durability is lost because it's made of plastic (and it doesn't have that rustic feel) but ultimately it's down to the choice of the individual buyer.
It comes ready to use and with a lifetime warranty.
5. Draper Hand Weeder (UK)
[easyazon_image align="center" height="840″ identifier="B00T4QPOMA" locale="UK" localize="n" src="https://www.urbanturnip.org/wp-content/uploads/2017/02/61Uyt9znj2L.jpg" tag="urbanturnip-20″ width="564″]
You could call it closed-mindedness, but I tend to stick to a handful of companies when I'm buying tools nowadays. There are always exceptions, of course – such as the beautiful Okatsune garden shears – but there is a certain security that comes from buying from favourite brands. Draper is one of them.
This weeder, which is a cross between a "scratch weeder" and a "dandelion grubber" (note the curved head designed to increase leverage) is a lovely piece. The handle is made from FSC-certified ash and the blade is stainless steel. You also get the added benefit of being able to oil the wood handle every year (or two)!
6. Gardena Paving Weeder (USA)
[easyazon_image align="center" height="1782″ identifier="B004Y9YCM0″ locale="US" localize="n" src="https://www.urbanturnip.org/wp-content/uploads/2017/02/715tcpUHfXL.jpg" tag="urbanturnip-20″ width="564″]
L-shaped weeders deserve an entire article of their own. If you need pull weeds out of the gaps between bricks or paving slabs then the other entries on this list won't be much good to you. A lot of people resort to a knife to tackle patio and driveway weeds, but the value of a curved "blade" can't be understated.
This product from Gardena is robust and well-made. The steel blade is particularly sharp and the handle, made of ergonomic rubber, is sturdy and comfortable. Gardena is a bit of an underrated and lesser -known brand (the company is German) but they make quality tools and this one is well worth a go.
Let us know your thoughts! Leave a comment below!
What are your thoughts? Have you tried any of the products in this list? Do you have your own suggestions? Leave a comment below and let me know!
Image credit: Working in the garden by Pat Kight.