Last updated: November 2019
Wind chimes, which date back thousands of years, are a common garden ornament. People tend to love or hate them, depending on whether or not they're the neighbour. Personally, I'm firmly in the "love them" camp.
In this article I'm going to pick out some of my favourite wind chimes. I'll also offer some buying advice. Take a moment to listen to the sample videos for each suggested item to get a sense of home they might sound hanging on your porch or balcony.
Let's dive in.
Best Wind Chimes: Quick Guide
Click here to jump to our in-depth reviews of the best best wind chimes.
What are wind chimes?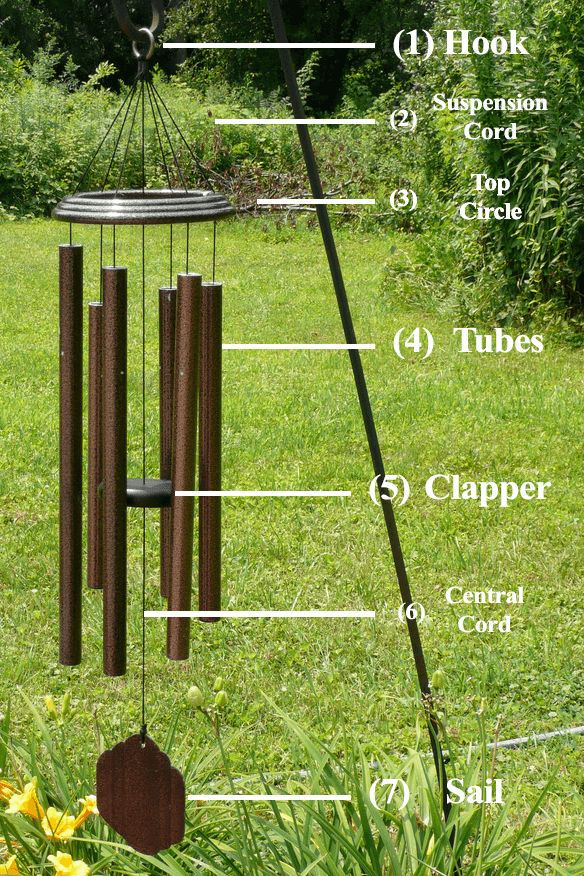 The question, "What are wind chimes?" might seem silly. But it's worth taking a moment to understand the different components. Doing so will help you pick the perfect one.
In essence, wind chimes are arrangements of (usually small) pieces of bamboo, metal, glass, shell, or porcelain suspended from a frame or "top circle". A "sail" (in the form of a weight attached to a string) stirs whenever there's a breeze, which in turn moves the clapper, creating the pleasant tinkling sound that everybody knows.
I'd say that more or less sums it up. Wooden chimes, bamboo in particular, are my favourite type. I find that they make a pleasant, dull sounds, that can't be heard for miles around (and thus don't inspire the ire of the neighbours).
Wind chimes are typically made up of six different parts. You'll want to remember that size measurements given by retailers almost always refer to the length from the very top of the hanging hook or "O-Ring" to the the bottom of the wind catcher or "sail".
Starting from the top (1) you have the hook, ring loop, or "O-Ring", which attaches to (2) the suspension cord, which carries all of the different parts of the set, including the sail. (3) The top circle separates the (4) tubes and the (5) striker or clapper. A (6) central cord, which can be attached to either the hook or the top circle, holds the striker and (7) the sail, the job of which is to catch the wind.
Different types of wind chimes
As I said at the start of the article, wind chimes have a fascinating history. Their main use, across a number of different cultures, seems to have been the warding off of evil spirits. Whether the bells were hung in Ancient Rome, India or Japan – where they are called Furin, literally "wind" (Fu) bell (rin) – they were all intended for this common purpose.
There are a variety of materials used to make wind chimes, each of which impart their own unique sound. Here's a quick rundown…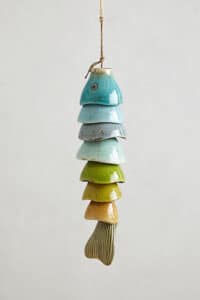 Metal -Aluminium, steel and copper are the most common materials. Tubes made from metals like aluminium and steel will produce a sharper sound while copper tubes will be softer.
Wood – Wood, and bamboo in particular, produce a hollow, somewhat echoing sound. The clattering of the wood is another thing that I like about wooden chimes.
Clay/Ceramic – Ceramic chimes have a short, sharp sound, resembling that of pottery being clanked together.
Glass – You can also buy glass chimes. They produce sharp, high-pitched, tinkling notes that a lot of people like.
Other materials – Chimes made from shells and other recycled materials can't be tuned to sound specific notes. These are usually bought more for their visual appeal.
Closed tubes – Along with the traditional design, you can also buy wind chimes that are enclosed in a single hollow tube. Koshi chimes are an example. Because the tubes have less space in which to move, the time between each strike of the clapper is reduced.
Features to look for in wind chimes
Number of tubes – The first thing to look for when deciding kind of sound you want is the number of tubes. Chimes with lots of tubes produce a more intricate tapestry of notes, compared to those with only three or four. Ultimately it will come down to taste.
Length of tubes – As a rule of thumb, longer tubes produce lower, deeper notes and shorter tubes produce higher notes. This isn't always the case (the type and width of the metal can also affect tuning) but it's a good working principle.
Size of sail – A bigger sail will produce less noise because it takes more wind-power to move it. The inverse is true for smaller sails.
Weatherproof – A good set of chimes will last a lifetime, as long as they have been properly treated for protection against the weather. This is particularly the case with wooden chimes (look for a good varnish) . Opt for metals that don't rust, like bronze and copper.
Best Wind Chimes: Top Picks for 2019 (With Recordings)
***Full Disclosure – Where appropriate, I've linked product images to commercial sites and Amazon (see Amazon Disclosure). If you buy from these sites, I earn a small affiliate fee, which helps me keep Urban Turnip going.***
1. Baritone Gregorian Chimes by Woodstock
Woodstock Chimes is one of the world's biggest chime-makers. Their products are all of superb quality (I probably could have just replaced this list with the Woodstock catalogue) and there is a heavy emphasis on musicality. This isn't surprising when you consider the fact that the company was founded by a musician!
These chimes are tuned to a medieval scale, hence the "Gregorian" sound. Personally, I love Gregorian chanting, and the deep, resonant sound of these chimes (note how long they are) is very evocative. It's also a very durable item, with a nylon cord, varnished wood top, striker and sail, and aluminium tubes.
This chime set comes in three different ranges: soprano, tenor and baritone. My favourite is the set of baritone wind chimes because of the deep, echoey sound they produce. All in all, this is a really special piece.
One final point: these are 56 in. long so make sure you've got somewhere to put it!
2. Cohasset Bamboo Chimes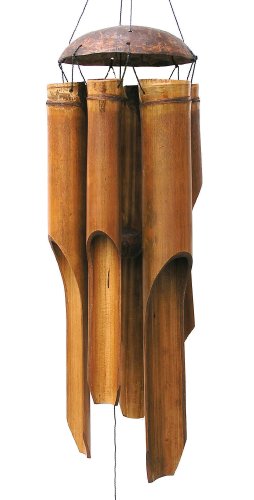 One of the wonderful things about wind chimes is that they're mostly still made by independent companies with an interesting backstory, as opposed to flying mass-produced off a production line. Cohasset's products are hand-made in Bali by local families and their design mirrors their Asian roots.
The six individual chimes on this set, which are made from bamboo and coconut tree wood, are each hand-tuned. There's a nice varnish on the wood so they're very long-lasting. If you're worried about annoying the neighbours then these are a good option – the sound is quite "dull" and not overly loud.
3. Japanese "Furin" Wind Bell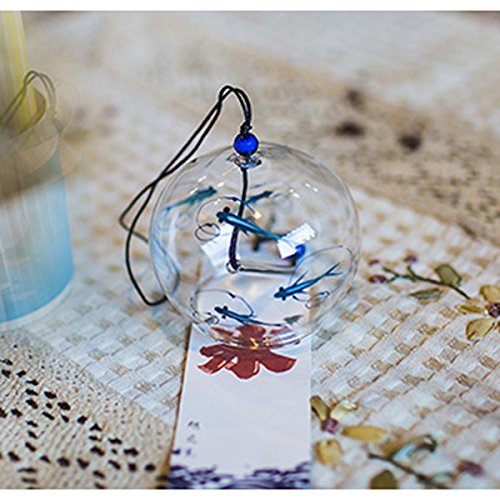 If you're looking for something a little less obtrusive, this little Japanese Furin may be the way to go. It's hand-painted in a Japanese style with small blue fish. The sail is a piece of paper (as is the traditional design) so it's best left somewhere that's protected from rain, under a balcony roof or by a window.
The great thing about Furin bells is that they are much quieter and gentler-sounding than normal chimes, though if you want a louder sound you can always buy more than one (see the video below). All in all this is a charming little piece and will work wonderfully as a gift.
4. Ceramic Fish Chimes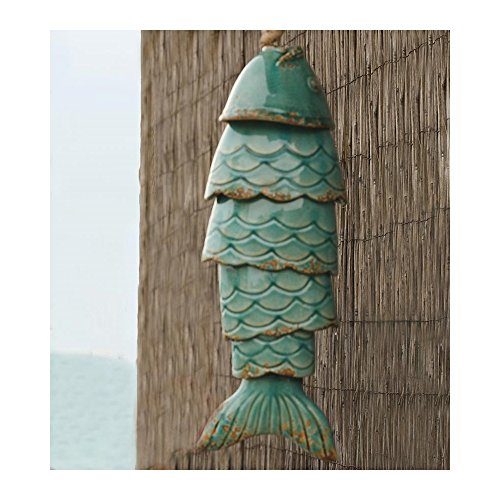 Ceramic chimes produce their own unique sound. If you haven't heard them before, watch the video below. This particular koi (or carp) shaped set of chimes is available in three colours and has a lovely weathered look to it.
The clay is weatherproof and extra-strong (porcelain for use as chimes undergoes a special heating process). The whole set is 15 in. long. If you're considering porcelain chimes, don't be put off by their staccato sound. I've found that it takes a little getting used to. I think they sound especially lovely when they're grouped together…a shoal of carp?
5. Woodstock Bronze Chimes

Some of the earliest discovered chimes were made from bronze. This set from Woodstock, which is 37 in. long, is made with 6 bronze tubes and is small enough to fit even into compact spaces whilst still making a statement. It is held together by a nylon cord and the sail at the bottom is made from wood.
The copper tubes have their own unique sound (see the video below) and will weather beautifully over time. The balance of this set is also just right. They're heavy enough to withstand lighter breezes, so won't jangle madly when the wind picks up. If you're just wanting a high-quality, "normal" set of chimes for either inside or outside, then go with these.
Let us know your thoughts! Leave a comment below!
Have you bought any of the wind chimes listed here? Do you have any of your own favourites? Leave a comment below and let me know!
Image credits: Coldwater Catch Wind Chime by Wicker Paradise; Breeze by Kevin Jaako.