I was kindly contacted by Deelat Industrial a few weeks ago. They wanted me to review their outdoor solar-powered motion light and I happily agreed.
It wasn't just the lure of free stuff…I was actually interested to see how well a high-end solar motion light performed. The thing about solar lights, especially the inexpensive kind people buy for their gardens, is that they don't usually have a very long shelf life. They look good for a while and then die.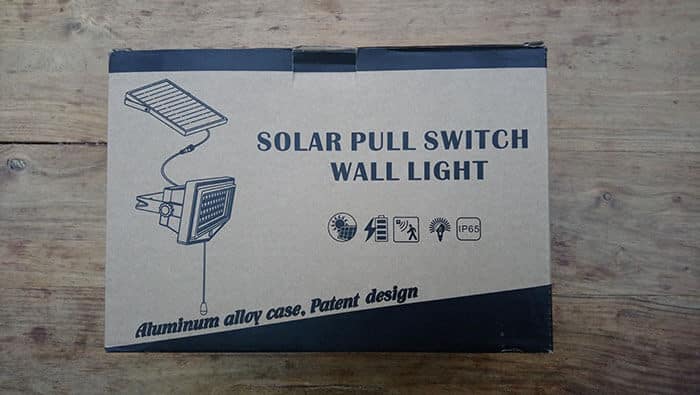 This product, on the other hand, is meant to perform as well (and last as long) as its electric-powered counterparts.
Deelat is a Dutch company and is mainly responsible for manufacturing industrial products for trade markets. That said, many of its products, including this light, are readily available on its website.
The best bits
Out of the box, I was immediately struck by how sturdy and well-built it felt. It certainly wasn't light (if you mind the pun)! The outer casing for the main light looks like thick, powder-coated aluminium. It connects by a removable cord to the solar light and can be turned on and off by a button on the back. A hanging cord (good if it's mounted high on the wall) can be used to turn it off or change the light setting.
There are four settings: off, dim light with motion sensor (that triggers a 1000 lumens light for thirty seconds), 500 lumens permanently, and 1000 lumens permanently. When charging in the day it will automatically turn off but the light will be on permanently (at 70 lumens) when it gets dark.
It's wall-mounted (it comes with a bracket), fully waterproof and has a 1-year guarantee. It is meant to last for 50,000 hours.
The not-so-good bits
There are two main criticisms I have of the light.
First, it's heavy. The casing itself is pretty hefty and. while the weight doesn't necessarily detract from the performance of the product, I did feel it was a little inelegant. It's only a minor gripe, and it may be that it's necessary for full protection from the weather. Just make sure you attach it to the wall securely!
The second issue I had was that the on/off button isn't clearly marked. So if you're charging it up for the first time and you leave it off, then you won't have any light that night. It's not that difficult to play about with it, but I would prefer a clear on/off.
Should you buy?
Despite the little drawbacks, I highly recommend this light. I'm always amazed why people don't use more environmentally-friendly products.
This is a sturdy, well-built piece and it should last you a long time. It's also worth checking out Deelat's other lights. They have a great range on offer. If yoyu're uncertain about the quality of solar lights (many think that they don't work) then expect to be pleasantly surprised!
You can check it out at this link.
What are your thoughts? Leave a comment below!
Have you tried this light? If you have pop a comment in the box below!