I've picked Grampa's Weeder as my favourite overall weed puller for my comparison article. It's a great tool and I wanted to go into a little more depth and cover some of its main features. They're quite common in gardens and my experience is that people either love or hate them.
What does Grampa's Weeder do?
It's essentially a long-handle weed puller. The mechanism is very simple. The basic action involves pushing the open claw into the ground and then pushing sideways to pull it out. This movement closes the craw around the weed's roots whilst pulling it up.
The tool also has quite an interesting history. It was invented in Seattle in 1913 and was apparently quite a popular gardening tool around that time. Production stopped during the war, with all available metal being funneled into the war.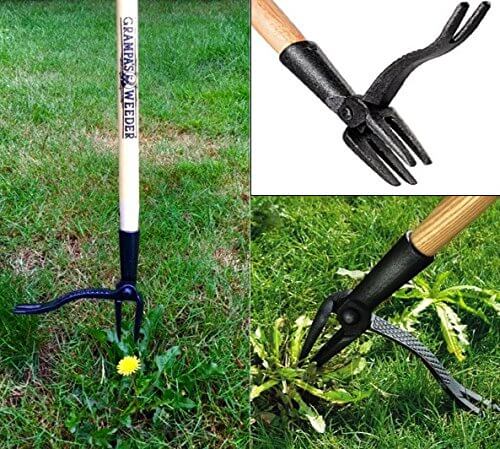 It wasn't until 1999 when it came to market again, under the moniker of "Grampa's Weeder". After they found an old one in a relative's garage, Greg and his wife Cathy set up their own company. Eighteen years on, and this great little(ish) tool is available in dozens of countries.
Why I really like this tool
I've had my Grampa's Weeder for a while and I highly recommend them. I've also seen other people use them and most will happily attest to their usefulness. Here are three reasons I like them:
Traditional, well-balanced design – The long, varnished wooden handle is attached to a powder-coated cast iron claw that works with a single bolt. It's simple, well-balanced and very long-lasting. The handle itself is made from ash wood and it feels very nice.
Gets rid of the need to bend down – Many people swear by it for this very reason. If you struggle with back problems or arthritis, then it's ideal.
Lifetime guarantee – It comes with a lifetime guarantee too, which is always a strong vote of confidence.
The only negative is that I couldn't find any reference to sustainably-sourced materials. This would be the one fault with the product, although most wood products are made with FSA wood so this one might well be too.
What is it used for?
The long(ish) claws are prefect for getting right down to the base of the roots of smaller plants like dandelions. Anything bigger is going to be a struggle. So deep, vigorous weeds like nettles are a no no. But for smaller weeds on your lawn and in your flower beds, it's ideal for regular, hassle-free maintenance.
Click here to buy it from Amazon
What are your thoughts?
Have you tried Grampa's Weeder? If you have, leave a comment below and let me know what you thought about it!