I spend a lot of time writing about container gardening. I started Urban Turnip as a passion project and, since then, it's been occupying far more of my time than is probably normal.
Nonetheless, I love it. I love writing about plants and potting mix and everything else that fits into a growing space. And in the course of doing that, I've come across a lot of gardening products…ornaments included.
So I thought I'd write a short "review style" article about some of my favourites. This is a highly personal selection of ornaments from around the web and I'm sure that they won't be to everybody's taste. But even for those who aren't convinced by my aesthetic sensibilities, I hope you do find a little inspiration.
I've focused more on pieces that are purely decorative (with the exception of lights) rather than ornaments that have a practical function too.
Before I dive in, here are a few of the criteria that any garden ornament has to stand up to…
What I look for in garden ornaments
No tackiness – Garden ornaments get a pretty bad rap. I think that one of the biggest contributing factors is the fact that most of them are tacky pieces of plastic rubbish. There's a strict no entry policy for tacky ornaments on this list.
Wood is good – I always think that wood has a more natural feel to it. I don't know why, but plastic seems ;ess tacky (and tackiness isn't allowed).
Funny is ok – Rude and novel ornaments are allowed!
My Favourite Garden Ornaments in 2017
***Full Disclosure – Where appropriate, I've linked product images to commercial sites and Amazon (see Amazon Disclosure). If you buy from these sites, I earn a small affiliate fee, which helps me keep Urban Turnip going.***
Funky Chickens (from Gardener's Supply)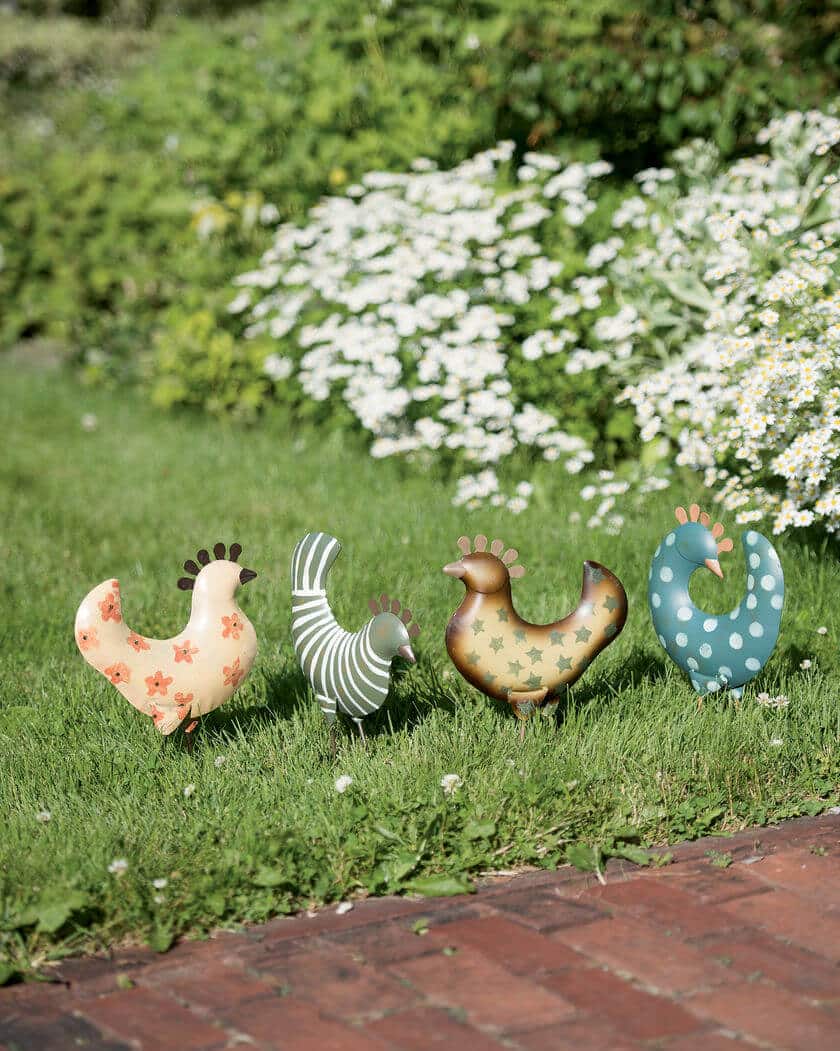 These "funky chickens" are hand-painted and will look charming in a raised bed or vegetable patch. Plus, you never know, they might just keep unwanted guests away too.
Another great thing about them is that they will rust quite nicely over the years. This set, which is available from Gardener's Supply exclusively, includes four pieces.
Poppy Sways (from Gardener's Supply)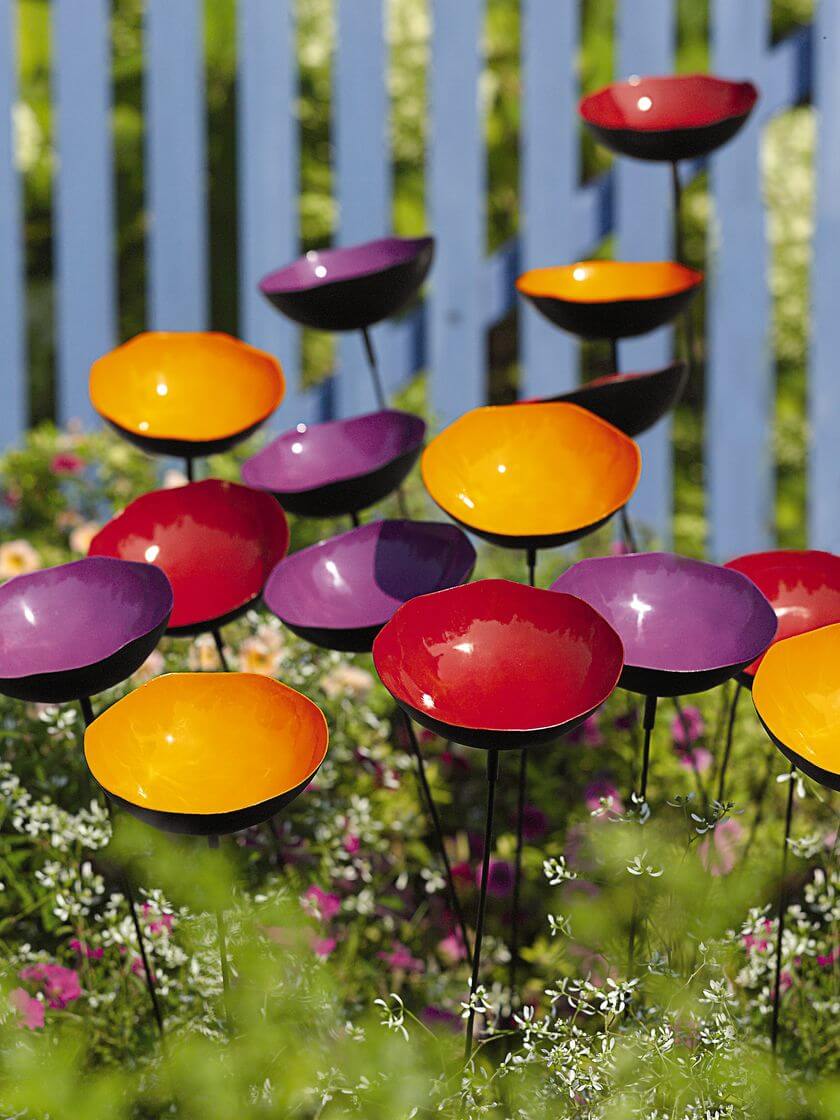 I love the colours and design of these poppy "sways" (a fancy name for bendy stakes that sway about in the wind). I think they look a bit strange (in the best possible way) when they're placed amongst flowers and it's also interesting when they move about in the wind.
An added benefit is that they also fill up with water for butterflies and small birds. You can even fill them with birdseed if you want.
Chia Donald Trump (from Amazon)
[easyazon_image align="none" height="756″ identifier="B01G988ZRG" locale="US" src="https://www.urbanturnip.org/wp-content/uploads/2017/01/71JwvMGp2tL.jpg" tag="urbanturnip-20″ width="564″]
I'm not going to try and make any political jokes. I'm writing this article a day after the inauguration and everybody in the house is sick to death of hearing the new president's name.
The great thing about this planter is that is can happily sit in the gardens of both lovers and haters alike – it doubles up as insult and an honorary statue. It's made from terracotta so you can use it outside. It's also handmade!
Laid Back Frog (from Walmart)
I life frogs…it's just that most of the statues are a bit boring. This one is quite big (14 in. tall and 40 in. long). It's made from plastic resin and hand-painted in green and brown.
The whole thing has a folksy feel to it and will make a whimsical garden addition if you're looking for a bigger statue.
"Hedgehogs Welcome" Sign (from Etsy)
If you want something that's unique and handmade then Etsy is a great place to go to. This wooden sign is laser engraved and has dimensions of 20 cm (8 in.) by 16 cm (6. in) – so it's not too big.
Hung with a little bit of twine, this will look lovely in any garden. I also think it's very well-priced!
Moroccan Painted Bell Jars (from Etsy)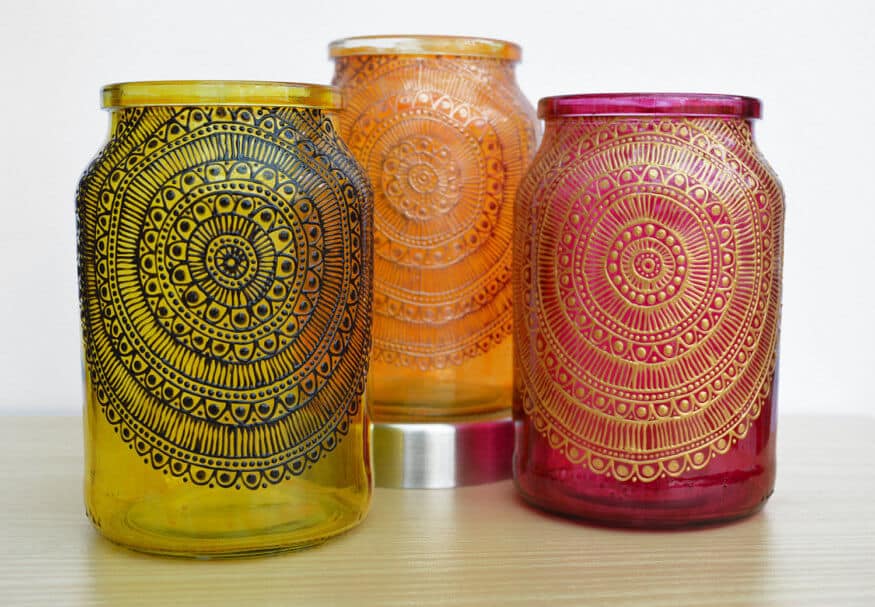 I know that ultimately it comes down to personal taste, but I love Moroccan design. These bell jars are perfect for popping around the garden and putting candles in.
They're not ideal for leaving out when they're not being used, so it's best to store them to protect against the weather during the day/overnight, or alternatively you can keep them in a protected area.
Amish Wagon Planter (from Amazon)
[easyazon_image align="none" height="1001″ identifier="B01BX1NP56″ locale="US" src="https://www.urbanturnip.org/wp-content/uploads/2017/01/71pptFxyTzL.jpg" tag="urbanturnip-20″ width="564″]
This is one of those decorative garden objects that treads the line between charm and utility perfectly.
It's made from treated wood and includes iron wheels, which will rust beautifully as the years go by. It's smaller than it looks int he picture (it's only 44 in. long) sow will fit into even tight spaces.
Moroccan Outdoor Lantern (from Etsy)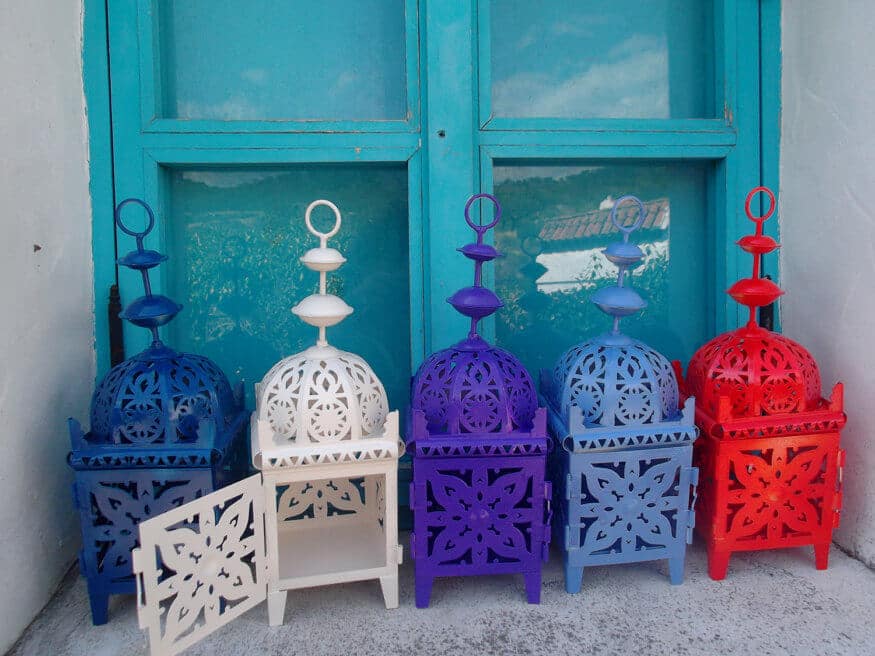 These are simple, functional and look great. They're made in Portugal and measure just under 14 in. high so they're quite large and can hold a large candle.
If you like the Moroccan-inspired design then these are a great option to go with. They can also be repainted in another colour if you want a change!
Mosaic Led Path Lights (from Amazon)
[easyazon_image align="center" height="1126″ identifier="B016XXAFUC" locale="US" src="https://www.urbanturnip.org/wp-content/uploads/2017/01/71KPA9QqUL.jpg" tag="urbanturnip-20″ width="564″]
This set of three solar-powered lights incorporates a lovely mosaic design. They're also completely weatherproof. They give only limited brightness so don't use them for brightening up your garden (if you're looking for solar-powered lights, I've written an in-depth guide to the best models). They're best used with more powerful lights.
They're also very well-priced for what you're getting! If you're gardening in containers, then they're great for popping in pots.
Design Toscano Moonie Gnome (from Amazon)
[easyazon_image align="center" height="2048″ identifier="B00AKKHUNK" locale="US" src="https://www.urbanturnip.org/wp-content/uploads/2017/01/81frpQbiAIL.jpg" tag="urbanturnip-20″ width="564″]
This great bare-bottomed gnome is made from a mix of plastic resin and stone. Despite appearances, it's not a mass-production piece. Toscano make a lot of beautifully designed and humorous ornaments and this piece, despite the vulgarity, is hand-painted. It's about 10 inches tall. I like to hide it underneath the foliage of my raised bed to give people a shock!
Bamboo Wind Chimes (from Amazon)
[easyazon_image align="center" height="500″ identifier="B003L8JN24″ locale="US" src="https://www.urbanturnip.org/wp-content/uploads/2017/01/31z6jkoJkLL.jpg" tag="urbanturnip-20″ width="164″]
People either love or hate wind chimes. In my experience, most tend toward the hate side of the balance. These bamboo chimes, however, have a beautiful hollow sound and they look great (the main "body" is 18 in long).
They are also decorated with a lovely burnt flower design. They will stir at even the tiniest breeze, so if you only want them to chime occasionally, hang them in a place that's protected.
Vintage Watering Can (Various)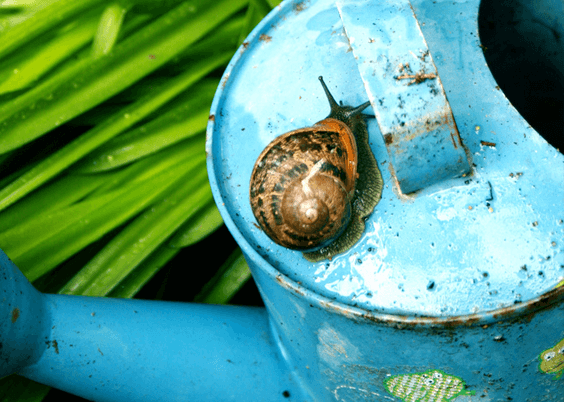 I'm not sure if vintage watering cans qualify as garden "ornaments" but they certainly look the part when they're not in use. I wrote a completely separate article dedicated to watering cans so have a look at that if you're interested. Every gardener should have a good steel can on their patio or balcony!
What are your thoughts? Leave a comment and let me know!
What are your thoughts about my selection? Have you got any of your own favourites? Leave a comment below and let me know!
Image Credit: Garden ornament by Chuck B.